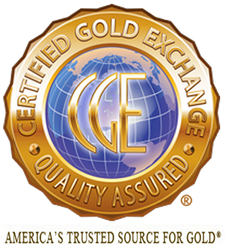 When we reach a point where some gold dealers themselves don't know if a piece of metal is gold or not, it's time to innovate.
Fort Worth (PRWEB) July 18, 2014
The Certified Gold Exchange has issued a warning to all U.S. gold dealers after the July 16 publication of an NJ.com article about gold bullion scams. Company spokesperson Janet Jones says the Gold Dealer Advisory was given the green light by CGE's corporate officers when it was revealed that a gold dealer in New York was, at first, unable to prove conclusively that the gold bullion presented to him by a customer was fake.
"Gold counterfeiters have been around for thousands of years. The first known test for fake gold used the water displacement method. That method, designed by Archimedes, took advantage of the fact that each metal has its own density," Jones said. "However, when we reach a point where gold dealers themselves don't know if a piece of metal is gold or not, it's time to innovate."
There are no recorded incidents of the official Certified Gold Exchange shipping or accepting counterfeit gold, although there is a story in the company's magazine, Real Money, that relates the story of a husband and wife who tried to sell CGE some metal that was purchased from a different company by the husband's mother years ago. "The mother purchased a small amount of gold from CGE, and the last time we heard from her she told us she found a place to buy gold at spot price," Jones relates. "She passed away, and it was heartbreaking to tell her son that the spot price gold she bought was actually tungsten."
Certified Gold Exchange, Inc. is one of North America's premier precious metals trading platforms, providing unparalleled service to licensed dealers, institutions, and household investors since 1992. Certified Gold Exchange maintains an A+, Zero Complaint Better Business Bureau rating. For more information or a free "Gold Investor's Guide," visit http://www.certifiedgoldexchange.com or call 1-800-300-0715 today.