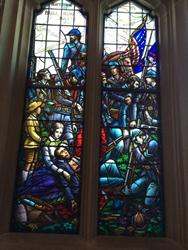 For over 66 years, Willet Hauser has devoted time and perseverance to create and maintain the stained glass windows at The United States Military Academy at West Point's Cadet's Chapel.
West Point, NY (PRWEB) July 25, 2014
North America's largest stained glass window firm, Willet Hauser Architectural Glass (Willet Hauser), was recently honored for its outstanding stained glass window creation adorning Cadet's Chapel at Washington Hall at The United States Military Academy (the Academy) at West Point. The notable commission remains the longest, continuous relationship and dedication to the Academy in American history thus far.
This year, the nation's leading architectural stained glass window company installed the restored windows at Cadet's Chapel and Washington Hall in honor of the Transfer of the Window Endowment Ceremony on May 20th, 2014, hosted by the Academy's West Point Association of Graduates, Class of 1944. This year marks the graduating West Point's Class of 1944's 70th reunion, as its alumni graduate on June 6th, "D-Day", seventy years ago.
Kathy Jordan, Director of Art Development at Willet Hauser, along with her husband, Clay Jordan, both attended the transfer ceremony, their presence acknowledged and celebrated by West Point Class of 1944 graduates, Colonel Don Carter and Lieutenant Jack Cushman, on behalf of Willet Hauser's significant and masterful contributions to the USMA.
For over 66 years, three generations of Willets devoted their time, perseverance and efforts to create and maintain the colorful stained glass windows and panels at the Academy's Cadet's Chapel at Washington Hall. The windows are an artistic and architectural rarity, exemplifying Willet Hauser's impeccable craftsmanship through vibrant illustrations of West Point graduates' courage and sacrifices during historical wars and battles dating back to 1812.
West Point graduates are called upon to encourage each other to become leaders of character who are committed to duty and honor to their country. Standing tall and proud, the Colonel Carter shared the story behind the Class of 1944's decision to commission a stained glass window at the Academy.
The stained glass window creation, a gift of great inspiration and remembrance, depicts 14 battles scenes from the Civil War to the Vietnam War, commemorating all West Point graduates – past, present and future. The Colonel reminded gathered West Point graduates and their families of the purpose of the 1944 Gift Fund in establishing the Windows Endowment – to indefinitely uphold and preserve the stained glass windows at Cadet's Chapel, and to support its continuing preservation for decades to come.
About Willey Hauser Architectural Glass:
Originally founded in 1898 under the name of Willets Studios, the nation's leading stained glass window company known today as Willet Hauser Architectural Glass, Inc., continues to design and restore beautiful stained glass windows creations. Under the leadership of the Willets family, the studio has grown from a small organization of artists, designers and craftsmen into a premier stained glass architectural windows firm. Combining both timeless traditions and modern techniques to their craft, Willet Hauser's works of art have been commissioned by prominent associations and organizations throughout the United States, including the National Cathedral in Washington, D.C. to the Cathedral of St. Mary of the Assumption in San Francisco. For more information, please visit http://www.willethauser.com/.