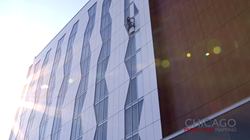 "Our guide is a quick and easy way to bring a client or organization up to speed, and help guide decisions in a way that is most beneficial for the end product." - J Matthew Nix, Project Lead for Chicago Projection Mapping
Chicago, IL (PRWEB) July 21, 2014
Chicago Projection Mapping (CPM), a Chicagoland-based content and 3D projection company, announced today the release of a new informative guide for surface selection for projection mapping applications. Designed for individuals and agencies alike, the guide provides a "surface-level" discussion of common architectural features that make for ideal projection displays. The guide is available today through Chicago Projection Mapping's website.
In the most common forms of projection mapping, large exterior surfaces are used in lieu of traditional screens or staging. However, what makes an ideal surface is oftentimes unintuitive to the untrained eye - the common question of "how does projection mapping work?". Chicago Projection Mapping created this guide as an easy-to-follow primer for those interested in finding a project application for projection mapping, walking through common traits of architectural features that affect the viability of mapping. Traits like color, surface texture, and quantity of glass are explained and simplified for even the most uninitiated group to projection.
"No matter what your content, whether simple brand logos or complicated 3D graphics, your surface matters", said J Matthew Nix, Project Lead for Chicago Projection Mapping. "Our guide is a quick and easy way to bring a client or organization up to speed, and help guide decisions in a way that is most beneficial for the end product."
This guide continues Chicago Projection Mapping on the forefront of the 3D and 4D mapping community. As the industry remains on the cutting edge of visual technology, there are still no textbooks or formal certifications for projection mapping. This guide serves as a important step in sharing the unique skills and knowledge behind projection mapping with the wider marketing, B2B/B2C, and audio/visual community.
Chicago Projection Mapping continues 2014 with upcoming permanent and limited-time displays and installations. CPM remains at the forefront of Midwestern projection mapping, including architectural projection mapping, projection for live events, 3D and 4D video mapping displays, and projection mapping for trade shows and corporate events. For inquiries or a free quote, please email info(at)ChicagoProjectionMapping(dot)com.
About Chicago Projection Mapping:
Chicago Projection Mapping (CPM), an Absolute Vision Media Inc. company, is among the nations leaders in top-tier 3D and 4D projection mapping and video mapping services. CPM distinguishes itself above traditional AV and projection companies with a focus on future-proof, value-oriented projection solutions, followed with exceptional client service and unmatched creative content. Further, CPM takes a hands-on approach to developing never-before-seen implementations of mapping, including permanent installations in both residential and commercial spaces, and cutting-edge interactive applications of mapping through their research and development division, CPM Labs. From concept to completion, Chicago Projection Mapping is the preferred national and international partner for dozens of agencies, businesses, firms, and audio/visual companies alike. For more information and samples of work, please visit http://www.ChicagoProjectionMapping.com.