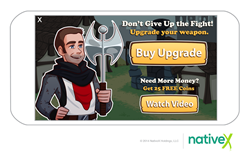 San Francisco, CA (PRWEB) July 22, 2014
NativeX, the leading ad technology for mobile game monetization, today announced the first and only deep linking mobile ad format for iOS and Android mobile game developers. The ad format gives players the option to either click directly to the game's in-app purchase store to buy premium content or to engage with an ad to earn game currency.
Free-to-play game developers have been the mobile industry's first to embrace a dual monetization model, earning revenue from both advertisers and consumers. However, very few players make in-app purchases, with one report estimating that half of free-to-play games' in-app purchases are coming from only 0.15 percent of players http://recode.net/2014/02/26/a-long-tail-of-whales-half-of-mobile-games-money-comes-from-0-15-percent-of-players/. The game developer's challenge is to optimize the game experience for their premium customers who make in-app purchases. At the same time, they can offer "free" rewards to non-paying players to give them a low risk opportunity to experience the benefits of in-app purchases.
NativeX's deep linking ad format offers a solution to game developers who want to create a great user experience for their paying customers and provide advertiser-sponsored options for those who choose not to pay. In early customer trials, more than 10 percent of players shown the new deep linking ad format are clicking through to games' in-app stores to make purchases.
"Across all forms of media – television, print, radio, Web, and mobile – either advertisers or consumers pay for content," said Robert Weber, co-founder and senior vice president of business development, NativeX. "We are confident this new format will not only drive more consumer revenue, but will enable developers to treat each player individually, whether they are customers who pay or non-paying players who prefer an ad-sponsored experience."
How It Works
NativeX's deep linking mobile ad format is a new multi-offer advertisement served to players during natural breaks in gameplay. When the ad appears, players can select from two options: 1) connect through a deep link to a mobile gameplay; or 2) engage with an ad in exchange for free virtual currency or game items.
There are multiple strategic game placements and variations of this template which allow the developer to reach players at the particular hooks in the game where the user is most vulnerable, most upset, or most in need of currency or tools to excel in the game. An example would be if a player has failed to complete a level three times consecutively and would be looking for additional help or tools to beat it.
For more information about NativeX's holistic approach to mobile game monetization, visit http://www.nativex.com.
About NativeX
NativeX is the leading ad technology for mobile game monetization. For developers who want to monetize with advertising that really works, NativeX is the marketing technology platform that is reinventing in-app advertising to create more effective and engaging ad experiences that enable developers to build successful businesses around their apps. Native advertising becomes part of the user experience and it out-performs standard display advertising, often doubling or tripling revenue for publisher partners. For more information, visit nativex.com or email contact(at)nativex(dot)com. Follow us on Twitter @nativex.