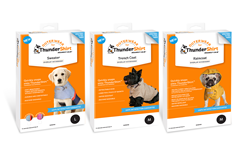 Las Vegas, Nevada (PRWEB) July 22, 2014
Protecting anxious pets from cold and wet weather just got easier! ThunderWorks, the makers of the ThunderShirt, has developed Outerwear for ThunderShirt, launching at SuperZoo 2014 in Las Vegas, Nev. The new line of overlay accessories easily snaps onto the outside of a dog's ThunderShirt, offering a fashionable and functional solution for dogs needing additional weather protection. ThunderWorks will also be featuring their recent customer favorite at SuperZoo 2014, the ThunderLeash, which is a two-in-one leash harness that provides a simpler no-pull solution for dogs.
The Outerwear for ThunderShirt overlays are currently available in three styles: the Sweater, Trench Coat and Raincoat. Each are sold separately and made specifically to snap onto the 2014 ThunderShirt models, which now include snaps.
The Sweater Overlay is made with soft, breathable fabric, which retains warmth without overheating. The durable and comfortable overlay is machine washable and available in two color options: Blue Rugby Stripe and Pink Rugby Stripe. The Outerwear for ThunderShirt Sweater retails for $19.95 and is offered in size small, medium and large.
The Trench Coat overlay features a classic khaki trench coat style design that is lined for a touch of warmth and features a water resistant outer layer. The Trench Coat also features a retractable hood for added protection and is machine washable. The Outerwear for ThunderShirt Trench Coat retails for $29.95 and comes in sizes small, medium and large.
The water repellent Raincoat overlay sports a traditional yellow slicker design that includes a Velcro tummy wrap for quick use without a ThunderShirt, perfect for those rainy-day emergency potty breaks! The Raincoat also features a reflective strip for extra safety in the dark and a built-in leash slot for quick click to collar attaching. The Outerwear for ThunderShirt Raincoat retails for $14.95 and is available sin sizes small, medium and large.
Launched in 2013, the ThunderLeash is quickly becoming a customer favorite. Finally, dog owners can enjoy a hassle free walk with overexcited dogs without the need for complicated harnesses or head collars, making the experience more positive for everyone.
Recommended and extensively tested by professional dog trainers, the ThunderLeash can be used as a standard leash (hooked onto a standard dog's collar), and can be quickly and easily converted to a "no pull" harness configuration any time pulling becomes an issue. Dog owners will simply wrap the leash around their dog's torso and allow the safe pressure caused by their pulling to reduce their desire to pull. There's no standard harness required, making this patent-pending design very quick and easy to put on and take off the dog. The ThunderLeash is available in two sizes, small and large, and retails for $29.95.
All Outerwear for ThunderShirt overlays and the ThunderLeash can be purchased at http://www.ThunderWorks.com.
With its patented design, the ThunderShirt applies gentle, constant pressure to the torso. This pressure has a dramatic calming effect for dogs if they are anxious or fearful. Anxiety experts believe that pressure has a calming effect on the nervous system and may release calming hormones like endorphins or oxytocins.
If you are a member of the media and would like more information about these exciting new products, or to request a product sample, high-resolution image or additional product information please contact please contact Kerry Sutherland at K. Sutherland PR, Kerry(at)ksutherlandpr(dot)com or 949-328-4895.
About ThunderShirt and ThunderWorks
Founded in 2009 in Durham, N.C., ThunderShirt's mission is to bring relief to the millions of dogs, cats and their families struggling to cope with anxieties. The ThunderShirt is designed to apply a constant, gentle pressure to a dog or cat's torso creating a dramatic calming effect for most users. ThunderShirt continues to investigate anxiety and fear issues with scientific-based studies and surveys from recognized veterinarians and pet owners. ThunderShirt has already helped millions of dogs and cats across the country and around the world. The company also donates thousands of ThunderWorks products and funding to rescue groups and shelters to help these organizations manage their anxiety cases and find permanent homes.
In recognition of the company's expanding product line into more calming solutions, ThunderShirt has changed its corporate name to ThunderWorks. As always, the company is committed to developing calming pet products that are effective, simple to use and strengthen the bond between pet and pet parent. Together, let's be better humans to our pets. Products are sold at http://www.ThunderWorks.com and by retail stores, veterinarians, trainers and kennels across the country.