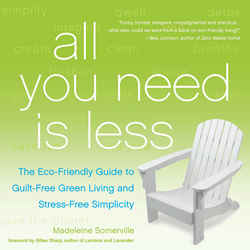 Budget tips you'll never read anywhere else. —The Frugal Family
(PRWEB) July 26, 2014
Viva Editions has announced the release of the All You Need Is Less audiobook by Madeleine Somerville, available on Audible. All You Need Is Less is packed with dozens of DIY ideas for shampoo and eco-cleaners, worm compost gardens will love, yummy recipes and even homemade holiday gifts and decor.
About the Author
Madeleine Somerville adores writing in all its incarnations. She has a B.A. in sociology and is addicted to commas and soft cheeses. She became an unrepentant, tree-hugging hippie after moving to British Columbia eight years ago, and her husband, daughter, and dog suffer the effects of this metamorphosis on a daily basis.
About Viva Editions
Viva Editions are books that inform, enlighten, and entertain. The very name, "Viva!", is celebratory. And while Viva Editions is a line of books that are as fun as they are informational, the intention behind Viva is very serious—these are books that are truly helpful and intended to enhance people's lives.