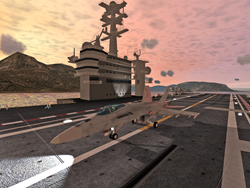 The most advanced aircraft landing system ever created.
(PRWEB) July 21, 2014
The famous flight simulator, with over 20 million fans worldwide, is back with many new features on the iOS, Mac, Google and Amazon stores. Having reached the top of the charts all over the world, RORTOS has brought its simulator to a whole new level: with brand-new graphics and a greatly-improved flight engine, for a level of realism never seen before.
A new and extended game campaign, with over 30 missions in 5 incredible settings and 10 different planes to fly, will keep pilots involved for hours in electrifying challenges that go beyond the speed of sound.
Takeoffs, landings, formation flying, sudden breakdowns, rescue missions, recon, extreme weather conditions, aerial refueling: these are just a few of the challenges required in order to successfully complete this exciting adventure.
The exhilaration of flight can be experienced over and over. Thanks to CINEMA view, pilots can replay each maneuver from different angles, save videos on their devices and share them on the web (iOS feature).
For an even more thrilling experience, now two devices can be linked together to activate the multi-screen mode: with the first device displaying the instruments necessary to function as a remote system for the plane's controls.