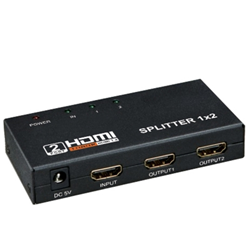 (PRWEB) July 20, 2014
Hiconn Electronics, a famous electronics accessory company, has recently unveiled its new designs of 1x2 HDMI 3D Splitters. In addition to that, the company has announced a special offer for these high quality splitters. All of them are now provided at discounted prices, up to 28% off.
Hiconn Electronics has its own innovative design team, so all its products are practical and durable. The company can always offer what customers actually need. When creating new items, its top specialists always take customer needs into consideration.
The following are some details about the company's 1x2 HDMI 3D Splitters:

Support either one or both outputs at the same time
Support 3D video (To get 3D, all units connected to the splitter outputs must support 3D
Support deep color 30bit, 36bit and XvYCc
Support CEC
Support HDMI signal retiming, no loss of quality
LED Indicate
Include AC100-240V universal power adapter
Operating Temperature Range: -15 ℃ to +55℃
True enough, the demand for high quality 1x2 HDMI 3D Splitters is huge in the current market. Hiconn Electronics understands that all customers want to buy cost-effective items. This is why the company decided to launch the special offer and offers low shipping costs. The company always goes the extra mile and has now become one of the most popular electronics accessory companies in the global market.
About Hiconn Electronics
Hiconn Electronics (Shenzhen Hiconn Electronics Co. Ltd.) is devoted to designing and manufacturing a wide range of connection cables and customized cable assemblies, offering many HDMI cables, VGA cables, SATA cables, USB cables, 1394 cables, DVI cables, SCSI (Small Computer System Interface) and more. For more information, please visit http://www.hiconn.net/.
Contact Person: James Yin (Sales Director)
Company Name: Shenzhen Hiconn Electronics Co., Ltd.
Address: Shenghua Building., Xixiang Road., Baoan District, Shenzhen, Guangdong Province, China
Zip Code: 518102
Tel: +86-755-8109 8345
Fax:+86-755-2779 3497