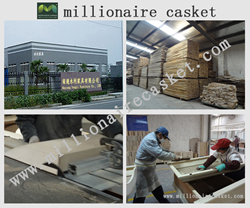 (PRWEB) July 22, 2014
MillionaireCasket.com, a well-known casket manufacturer from China, has recently added its new designs of maple caskets to its website. In addition to this, the company is now giving great discounts (up to 26 percent off) for all these brand new items.
MillionaireCasket.com is a reliable supplier in the global market; it provides great caskets for its current and prospective clients. Its hot products include 18 gauge metal caskets, mahogany caskets, and oak caskets and more. According to the company's sales manager, its website will be turned into a multi-lingual platform in the near future.
As a matter of fact, MillionaireCasket.com has years of experience in making caskets. The main purpose of this firm is to provide all kinds of affordable, high quality caskets. Contrary to many people think, low price is not equal to low quality at MillionaireCasket.com. All its discounted items are made with good materials. The company's main purpose is to help worldwide distributors to get cost-effective funeral products.
What's more, the company's products are very popular among dealers from all over the world. The company understands that online suppliers cannot emphasize too much on the importance of service. Therefore, it has arranged several kind and professional members to work online.
About MillionaireCasket.com
MillionaireCasket.com is a leading casket company that focuses on the business of casket wholesale. This company offers an exquisitely crafted line of all kinds of metal caskets, solid wood caskets, veneer caskets, cremation caskets, rental caskets, orthodox caskets, infant or over-sized caskets and European style coffins. The standard quality control policy is strictly applied here, and a third party quality assurance is also available.
More details can be found at http://www.millionairecasket.com/75-maple-caskets.