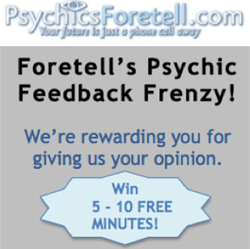 We want to hear about your experience with our psychics.
Philadelphia, PA (PRWEB) July 21, 2014
PsychicsForetell.com is giving their clients the chance to win some time with one of their psychic advisors. Clients are encouraged to send in testimonials about their readings with the company's psychics. Foretell's staff will reward clients who send in their testimonials with a free 5 minute reading.
"This is probably the best contest we've had in a while," says a rep from the company. "With this contest, everyone wins. The customers submitting the testimonials win the complimentary time and it also helps new clients while looking for someone to speak with; looking at the testimonials of others goes a long way."
In true Foretell fashion, the contest doesn't end there.
The staff will pick the best testimonial and be rewarding that client with a 10 minute free psychic reading. Foretell is encouraging clients to send in multiple testimonials to better their chances at winning the grand prize of the 10 minute free reading.
PsychicsForetell.com's staff has been working hard for over twenty years to make sure they are able to provide them with psychics who are honest, accurate, and professional.