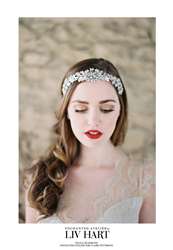 The introduction of this brand to the UK market means that UK brides will now also have their choice of the most beautiful accessories in the world!
(PRWEB UK) 29 July 2014
Of all the big USA bridal brand names, Enchanted Atelier was chosen as the highlight of Crystal Bridal's luxe headwear collection as designer Liv Hart creates every beautiful headband, comb and veil like a fine piece of art. Liv Hart has a strong background in fine art with experience in painting, sculpture and metalsmithing and her accomplished skill and creativity shines through perfectly in her stunning collection.
The trademark sculptured metalwork combined with the allure of Swarovski crystal makes an Enchanted Atelier headpiece unique. The vivid, strong metal is transformed into a trailing vine of beauty using fine crafting techniques and feminine floral and leaf motifs. The Lady Mary Headband, one of her most popular designs, was inspired in part by a famous sculpture and the novel Pride and Prejudice. This special blend of sophistication and creativity can be seen throughout the award-winning Enchanted Atelier collection.
"Becoming an Enchanted Atelier stockist is the most exciting addition to our list of featured bridal brands! The headpieces are simply exquisite and will appeal to the bride who demands a sumptuous headpiece to become the focal point of her bridal look," explains Amy Karim, owner of Crystal Bridal Accessories. "The introduction of this brand to the UK market means that UK brides will now also have their choice of the most beautiful accessories in the world. The range of Liv Hart designs on offer will be constantly expanding and brides also have the choice to order any piece we don't have in stock direct from the USA."
"We envisage that an Enchanted Atelier bride has researched her bridal look in minute detail.' adds Amy. The designs created by Liv Hart exude romance, feminine grandeur and hints of the vintage era all combined in an easy to wear crown or band. Specific pieces in the collection are shaped in a crescent or vine to make them flexible enough to suit any bridal hairstyle and many of the crowns and tiara bands will transform a plain veil into a vision of a fairy-tale bride.
The Enchanted Atelier pieces currently in stock include the 2014 styles Finale Crown, Grace Headband, Flora Vine and Adele Comb which can be ordered online at the Crystal Bridal Accessories website.
About Crystal Bridal
Crystal Bridal Accessories is an innovative business offering elegant accessories for weddings, parties, balls, proms and special occasions. The online boutique offers the entire range of wedding shoes by Paradox London, Benjamin Adams, Rainbow Club, Harriet Wilde and Love Art Wear Art and quality wedding jewellery by Louis Mariette, Halo and Co, Ivory and Co, and other brands made with genuine Austrian or Swarovski crystals. Crystal Bridal Accessories also stock a range of wedding gloves, bridal sashes by Sash and Co and Lily Bella birdcage veils and are exclusive online stockists for bridal handbags made with Swarovski crystals. Crystal Bridal Accessories is for the bride, bridesmaids, mother-of-the bride and for anyone who loves shoes, jewellery and handbags.
Crystal Bridal Accessories is highly commended by Wedding Ideas Awards 2012 for contribution to Bridal Accessories and Nominee for Perfect Wedding Awards 2013 and Wedding Ideas Awards 2013. The company was also a finalist in the Wedding Industry Awards 2013.
Brides can shop online or visit the showroom in Meadowhall, Sheffield serving brides across Yorkshire. For further information or to request high resolution product images, please email info(at)crystalbridalaccessories(dot)co.uk.