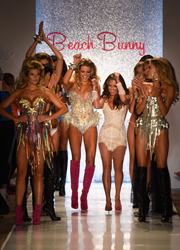 Miami Beach, FL (PRWEB) July 19, 2014
Miami Swim Week hotshot, Beach Bunny, and NY Fashion Week favorites, The Blonds, joined forces last night at Mercedes Benz Fashion Week SWIM for Beach Bunny's 2015 Spring presentation, producing a phenomenal show never before seen on the swimwear runways. Armed with the hottest models in the business, Beach Bunny's show packed the Raleigh's Cabana Grande to the max and closed the night with their Barbarella inspired collection lavishly embellished by The Blonds extravagant styling and playful creative direction, leaving the crowd blown away.
Known for creating media frenzy on the runway with previous collaborations by the Kardashian sisters, Kate Upton, and Irina Shayk, Beach Bunny did not disappoint for their highly anticipated return, with their jaw dropping partnership with The Blonds. Together they electrified the stage and transformed the runway into the fiercest nightclub in Miami.
The collection, appropriately named Electric Barbarella, included a variety of innovative styles and editorial pieces influenced by the modernity of current technology in the cyber space based on the vision of what a mega babe would wear in a futuristic setting. Led by supermodels Hailey Clauson, Samantha Hoopes, and Beach Bunny's newly announced model search winner, Mathilda Bernmark, an army of futuristic bombshells stunned the crowd as they marched down the catwalk in Beach Bunny's out of this world swim styles and one of a kind corsets by The Blonds.
The color pallet was crisp as it drifted from ice cold gleaming metallics and opaline pastels to pops of bright neon hues. Stellar pieces in cosmic prints displayed a vision of retro futurism combined with the incredibly sexy design aesthetic that the brand is most celebrated for.
Sports Illustrated Swimsuit beauties, Nina Agdal and Hannah Davis sat front row to cheer on their fellow Sports Illustrated Swimsuit vixen Samantha Hoopes for her debut on the runway.
The show was backed with an all-star beauty team to put the finishing touches on the runway looks. The hair, created TRESemmé®, the #1 styling brand in the U.S. and the official hair care sponsor of Mercedes-Benz Fashion Week Swim, was extra voluminous referencing the ultimate bombshells of the 1970s. The cyber space sex kitten look was topped off with ultra-feminine makeup by Per-fékt Beauty®.
For this year's show, Beach Bunny teamed with VO|CO®, the world's first premixed Coconut Water and Vodka Cocktail, as the presenting sponsor of its 2015 collection. VO|CO will fuel Miami's vibrant nightlife and beach scene with its launch in Southern Florida throughout Fashion Week.
The brand's 2015 Electric Barbarella collection launches online at BeachBunnySwimwear.com and hits retail floors starting in January 2015. Price points range between $150 and $360 for its signature pieces.
ABOUT BEACH BUNNY SWIMWEAR
Since its launch in 2004, Beach Bunny has become an international sensation with its definitive luxury swimwear, cover-ups, ready-to-wear, and accessories. Its designs capture the California lifestyle and appeals to glamorous girls across the globe that just want to have fun. Designed by Angela Chittenden, the label sells its designs through Beach Bunny's website and its branded stores in California, Arizona, Miami, and Dubai. Buyers can also find the iconic designs at Nordstrom, Revloveclothing.com, Shopbob.com and in specialty shops and department stores across the US and abroad. Filling the gap for sexy, yet flattering silhouettes in the swimwear industry, Beach Bunny's 2015 collection includes a variety of new cuts and styles with a full range of coverage, making the most sought after swimwear brand more accessible for every Bunny.
For more information please visit: http://www.beachbunnyswimwear.com