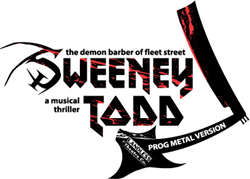 I believe that what keeps theatre alive is its openness to reinterpretation from generation to generation.
Washington, DC (PRWEB) July 21, 2014
The Landless Theatre Company has been given permission from Stephen Sondheim to develop a new Prog Metal Version of Sweeney Todd: The Demon Barber of Fleet Street for production at DC's Warehouse Theatre, August 7-31, 2014. The production is directed by Melissa Baughman (Richard Campbell's Frankenstein, Diamond Dead - 2008 Best Musical Pick of the Capital Fringe), with original prog metal orchestration by The Fleet Street Collective.
In the NY Times, 'Sweeney Todd' (Progressive Rock Remix) by Allan Kozinn on 2/12/14, Mr. Sondheim was quoted as saying, "Yes, I did indeed give them my okay," Mr. Sondheim wrote in an email, "on condition that they don't cut anything or change the order of things without my express permission. Since I believe that what keeps theater alive is its openness to reinterpretation from generation to generation, I look forward to seeing (and hearing) what they do."
Mr. Sondheim added that he would attend rehearsals, but only if the company asked him.
"Nothing is more distracting to a director and cast than having the author within eyesight while they're trying to invent and experiment," he said. "It will be an exhilarating learning experience for me whether I like the result or not."
This debut experimental production is developed and produced with special permission from Mr. Sondheim. Original prog metal arrangements are written and performed by The Fleet Street Collective under the music direction of Charles W. Johnson. Members of the Fleet Street Collective include UK-based composer and NYU Musical Theatre Writing alum Andrew Siddle; metal composers Spencer Blevins, Lance LaRue, Ray Shaw and Alex Vallejo; and rock theatre composer Andrew Lloyd Baughman.
"Our goal is to take Mr Sondheim's work and simply inject it into the prog-metal idiom," said arranger Lance LaRue. "We've managed to preserve nearly every lyric and melody as originally written while 'progging' the orchestration. Sondheim fanatics will find it extremely familiar while the Prog-heads will feel right at home with the chunky 7-string guitar, double-kick drums and extended-range bass lines."
Mr. Sondheim has personally approved cuts and changes to the score, and has provided some feedback to the team on the score. The production is in rehearsal and set to open on August 7, 2014 at Warehouse Theater.
"We're developing a new brand of rock theatre that challenges the current perceptions of rock in musical theatre," said Director Melissa Baughman. "It involves bringing together experienced metal musicians with theatrical sensibilities, and dynamic musical actors who can straddle the genres."
The cast of the new Sweeney Todd Prog Metal Version will feature Nina Osegueda (Frontwoman of A Sound of Thunder) as Mrs. Lovett, Andrew Lloyd Baughman (Frankenstein, Diamond Dead) as Sweeney Todd, Greg Bowen (Frankenstein, Baltimore Rock Opera Society) as Tobias Ragg, Patrick M. Doneghy (Keegan's The Full Monty) as Judge Turpin, Irene Jericho (Frankenstein, Frontwoman of Cassandra Syndrome) as Beggar Woman, Joe York as The Beadle, Bobby Libby as Anthony, Angeleaza Anderson as Johanna, and Robert Bradley (Frankenstein, Frontman of Aries) as Pirelli. The Ensemble will include Amy Baska, Matt Baughman, Steve Custer, Dani Ebbin, Jacki Ebbin Muir, Devin Gaither, Franklin Allen, Ally Jenkins, Dexter Warren, and Kristen Zwobot. Scenic Design is by Jared Davis (artbyjared.com). Costumes by Devin Gaither. Lighting Design by Chris Holland. Sound Design by James Wauters. Prop Design by Brenna St. Ours.
Landless is known in DC for producing camp and satirical theatre, but the company also has roots in rock theatre, including their 2013 debut prog metal opera Richard Campbell's Frankenstein, produced at DC's GALA Theatre and The Black Cat. In 2004, Landless obtained permission to develop a stage production of Diamond Dead (a screen rock musical collaboration between Night of the Living Dead's George A. Romero and Rocky Horror's Richard Hartley); the production went on to win 2008 Best Musical Pick of the Capital Fringe, and was a selected participant in the 2009 NY International Fringe Festival. Landless also produced a critically acclaimed DC premiere of Kyle Jarrow's absurdist art-rock President Harding Is A Rock Star in 2008 and 2014.
The Landless Theatre Company is a 501(c)3 nonprofit organization dedicated to cultivating new and diverse audiences for live theatre.
Tickets are now on sale at landlesstheatre.com.
Follow updates on The Prog Metal Version at DC Metro Theater Arts.