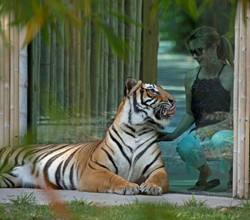 just like consumer demand created dolphin-safe tuna, shoppers choosing products made from sustainable palm oil are starting to make a difference
(PRWEB) July 21, 2014
Naples, FLORIDA: Naples Zoo at Caribbean Gardens is celebrating International Tiger Day on Tuesday, July 29, 2014. This global event is held annually on July 29 to both celebrate these majestic cats as well as bring attention to what we can do to help this endangered species. Between 9:30 and 3:30, the Naples Chapter of the American Association of Zoo Keepers will be sharing how choices at the grocery store can either harm or help tigers and other rare wildlife. Special presentations are also scheduled at Tiger Forest at 12:15 and 3:00. Plus, guests can participate in a raffle for a chance to win one of two pieces of art painted by the paws of Naples Zoo's Malayan tigers and even submit their best tiger pic in a Facebook Photo Contest!
Shopping for Tigers
An ingredient commonly found in our soaps, cookies, frozen foods, and many other household items often comes from plantations that clear-cut the jungle homes of rhinos, orangutans, tigers, and other endangered species. It's called palm oil but goes by dozens of different ingredient names making it hard to identify on labels. But just like consumer demand created dolphin-safe tuna, shoppers choosing products made from sustainable palm oil are starting to make a difference. You can learn more at http://www.napleszoo.org/palmoil and download the free app there to see if the companies making your favorite products love tigers and other animals as much as you do.
Tiger Facebook Photo Contest
Naples Zoo is hosting a fun photo contest where entrants can post images of the tigers at Naples Zoo playing in their pool or going face-to-face at the glass – or any tiger photo they have snapped anywhere. The person with the most VOTES for their photo will win their choice of a Family or Grandparent Naples Zoo Membership along with a plush tiger toy gift basket compliments of the Naples Zoo Gift Shop. To enter, visit the Zoo's Facebook page at http://www.facebook.com/napleszoo and click the Tiger Photo Contest tab. The contest is now open so photographers can enter anytime. Contest ends at midnight on Wednesday, August 13, 2014.
About Naples Zoo at Caribbean Gardens
Celebrating its 95th year as a botanical garden, Naples Zoo at Caribbean Gardens is a 501(c)(3) nonprofit organization cooperating in conservation programs at the Zoo and around the world including tiger projects in Malaysia. In addition to being accredited by The Morton Register of Arboreta and a member of the American Public Gardens Association, Naples Zoo has also achieved accreditation by the Association of Zoos and Aquariums, the international organization that sets the highest standards in the world for animal care, education, conservation, and more. Admission includes both the zoo and historic garden along with all shows, exhibits, boat ride, and animals from apes to zebras. ($19.95 adults age 13+/ $12.95 children 3 to 12, under 3 free. Children under the age of 16 must be accompanied by an adult at least 18 years of age). Annual memberships and discount tickets are also available online. Visitors enjoy healthy meals at Wynn's at the Zoo and shop for wild gifts in The ZOO Gift Shop. Naples Zoo at Caribbean Gardens welcomes guests daily from 9:00 to 5:00 with the last ticket sold at 4:00 and is located at 1590 Goodlette-Frank Road across from the Coastland Center mall in the heart of Naples. To learn more, visit http://www.napleszoo.org or call (239) 262-5409 or follow the Zoo online at http://www.twitter.com/NaplesZoo or http://www.facebook.com/napleszoo.