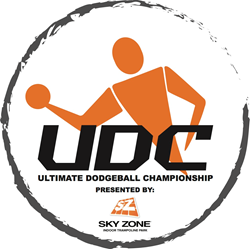 The Sky Zone invitation urges Congress members to "hurl balls, not insults" and to "work out any differences or frustrations like our forefathers would have done if they had the chance – on trampolines with rubber balls."
LAS VEGAS (PRWEB) July 21, 2014
Politics divide, Ultimate Dodgeball unites. That's the rationale behind an open invitation to members of the U.S. Congress from Sky Zone, the creator of Ultimate Dodgeball – a trampoline-infused twist on the school-yard classic. Sky Zone will host a Red, White & Blue Ultimate Dodgeball match exclusively for Congress members – the special match will take place following the $50,000 Ultimate Dodgeball Championship on August 10 in Las Vegas.
The invitation urges Congress members to "hurl balls, not insults" and to "work out any differences or frustrations like our forefathers would have done if they had the chance – on trampolines with rubber balls."
"Ultimate Dodgeball is a sport that anyone can play," said Sky Zone CEO Jeff Platt. "We see this as a unique opportunity for our elected officials to have a little fun, indulge their sense of humor, work off some stress, and support the nearly 570 teams who have been a part of this year's Ultimate Dodgeball Championship. Plus, it's for a great cause."
Sky Zone will make a $1,000 donation to Randy Couture's Xtreme Couture G.I. Foundation for each member of Congress who participates in the Red, White & Blue match, up to $20,000. To date, not one Congress member has taken Sky Zone up on their offer, but the company remains positive.
"We don't expect a huge response, but we hope a handful of members will take our invitation under consideration and join us in Vegas for some Ultimate Dodgeball fun," said Platt. "You'd think that at some level they'd really enjoy this."
ABOUT ULTIMATE DODGEBALL
One of the fastest-growing sports in the U.S., Ultimate Dodgeball is all the action of regular Dodgeball, but played atop Sky Zone's patented, all-trampoline walled playing courts. Check out the Top Ten Ultimate Dodgeball Hits.
ABOUT THE 2014 ULTIMATE DODGEBALL CHAMPIONSHIP
The Ultimate Dodgeball Championship started as a conversation over dinner three years ago and has now grown into what is believed to be the largest, nationally broadcast Dodgeball tournament in the world. The Third Annual Ultimate Dodgeball Championship will be held August 8 through August 10, 2014, at Sky Zone Las Vegas located at 7440 Dean Martin Dr. Suite #201., Las Vegas, NV 89139. The regional bracket will take place on August 8 and 9. The eight final teams will compete for $50,000 in cash and prizes during the Championship bracket on Sunday, August 10. The Red, White & Blue match will take place immediately following the Championship game. For more information about the Ultimate Dodgeball Championships, visit http://www.udodgeball.com .
ABOUT THE RED, WHITE & BLUE MATCH
The Red, White & Blue match will take place immediately following the Championship game at approximately 12:30 p.m. PDT on August 10. The official invitation may be viewed http://www.udodgeball.com .
ABOUT SKY ZONE
Since 2004, Sky Zone, LLC has created and built the world's first all-trampoline, walled playing court - a concept so unique it was awarded a United States Patent No. 5,624,122. Sky Zone, LLC operates two affiliate-owned indoor trampoline parks, and its Sky Zone Franchise Group division has opened nearly 70 parks across the United States, Canada, Mexico and Australia. Sky Zone Indoor Trampoline Parks feature a wide array of fun, fit and low- impact activities ranging from Open Jump, Ultimate Dodgeball and SkyRobics fitness classes to birthday parties, corporate events and other group outings. The franchise has been awarded various accolades, including "Best Gym Alternative" by Vegas Seven Magazine, "2012 Locals Choice for Kid's Birthday Party" by Southbay Magazine and one of Entrepreneur's 2013 "Fresh Concepts Livening Up Franchising." For more information on the company or franchising opportunities, please visit http://www.skyzone.com.
ABOUT RANDY COUTURE'S XTREME COUTURE G.I. FOUNDATION
The Xtreme Couture GI Foundation, a 501 (c) 3 non-profit corporation, was founded by Randy Couture to honor the veterans of America's armed forces. The foundation was especially formed to raise money and awareness for those wounded in action and their families. To date, more than 24,000 U.S. troops have been wounded in the war against terrorism, which doesn't include the many more suffering the mental effects. Many of the injuries are traumatic amputations, gunshot wounds, burns and blast injuries that will retire these brave men and woman from the armed forces. Even though some of these men and woman are severely injured, they have the courage, strength and determination to win this battle. The Xtreme Couture GI Foundation goal is to help these brave men and women fulfill any of their unmet needs as they return back to civilian life. For more information, visit http://www.xcgif.org/.
DODGEBALL FUN FACT
This summer marks the tenth anniversary of the comedy film Dodgeball: A True Underdog Story.
###