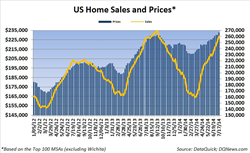 the trend in home prices has resumed to the upside
Chicago, IL (PRWEB) July 19, 2014
Peoples Home Equity was pleased and yet not surprised to see weekly home sales numbers climb 2.8% week over week. In addition median home prices rose 1.3% week over week.
According to the latest July 17th "National Home Sales Snapshot" from Dqnews.com, weekly home sales, currently at 260,350, have risen 15 consecutive times in the past 16 weeks. Peoples Home Equity thinks the current pace of sales is impressive but not surprising. This is because the lender thinks home sales have a good shot at surpassing 2013's home sales peak. At the moment weekly home sales are just -2.3% below that of last year. Unfortunately, this is a decline from last week when home sales were just -1.3% below 2013's pace. Despite the slowing pace many Americans wants to purchase homes, especially since mortgage rates have recently declined. Peoples Home Equity thinks that inventory is a drawback to why weekly home sales have not already surpassed 2013's peak, regardless of tighter lending standards.
Median home sale prices also increased week over week by 1.3%. At an average price of $233,000 homes are selling at a level 4.7% above 2013's number. For the 2 past 2 week home sales prices stagnated at 0% growth. Peoples Home Equity was encouraging prospective mortgage applicants to get pre-approved to take advantage of this slowdown in rising home prices. Now, the trend in home prices has resumed to the upside. Peoples Home Equity does not change its stance on the important of applying for a home loan especially since mortgage rates are relatively lower than where they were in early spring. Peoples Home Equity thinks that as current weekly home sales numbers are confirmed and reflected in later existing/new home sales reports the market will become even more bullish for U.S. real estate. Act now for a home loan before home prices and mortgage rates possibility move much higher!
If interested in buying a home and getting pre-approved for a home loan soon Contact a Peoples Home Equity loan officer today at: 262-563-4026