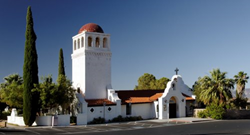 Las Vegas, NV (PRWEB) July 21, 2014
Grand Canyon Consulting Group announced that it has been selected to manage the design and construction of the Campus Rehabilitation and Expansion Project at St. Jude's Ranch for Children in Boulder City Nevada. St. Jude's Ranch for Children, a nonprofit organization that transforms the lives of abused, neglected and homeless children and young adults ages newborn to 25, was recently awarded a $2,656,300 grant for an "extreme makeover" project at its campus in Boulder City. The improvements include the children's 10 foster care homes and Chapel located on the campus. Grand Canyon Group will also solicit and provide donated materials and services through its strategic business partners that will enable the Ranch to stretch the grant dollars and allow St. Jude's the ability to expand its improvements even further.
Grand Canyon Consulting Group had previously provided services at no cost to St. Jude's Ranch at the St. Jude's Crossings Campus to assist in the swift resolution of design and construction defect claims. The quick resolution of the defects allowed the campus to continue its vitally needed services to the community. The St. Jude's Ranch Crossings Program provides supportive housing and services for homeless individuals aged 18 to 25 years old.
http://www.stjudesranch.org
Grand Canyon Consulting Group LLC provides Real Estate Development services, Construction, Project and Program Management services, LEED Certification Studies and provides Owners and Developers with assistance and solutions to their Development and Construction needs with locations in Las Vegas, Flagstaff and Phoenix.