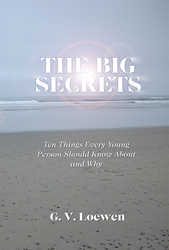 Here's a Top Ten List David Letterman can't beat!
(PRWEB) July 22, 2014
"The Big Secrets: Ten Things Every Young Person Should Know About and Why" is one of the most important books young people can read.
But be careful! What's in this book will kill misconceptions. It will murder some of the "truths" people have been living with all their lives. And If the old truths are dead, what will the new truths be? From sex to death, this self-help book deals directly with social reality issues facing young persons age 16 to 21, and it tells it like it is.
Tune in to "The Big Secrets" to read about the top ten teenage issues and all the social problems people have always wondered about.
About the Author
G.V. Loewen, Ph.D., is a social philosopher and an award-winning professor who has written 17 other books. He is currently chair of the department of sociology at St. Thomas More College of the University of Saskatchewan. Learn more about him on Wikipedia at http://en.wikipedia.org/wiki/Gregory_Loewen.
Book Details
Genre: Self-Help
Author: G. V. Loewen
Format: Paperback, 174 pages
Pub date: July 2014
THE BIG SECRETS (ISBN: 978-1-63135-234-8) is now available for $12.95 and can be ordered through the publisher's website:
http://sbpra.com/GVLoewen or on Amazon or Barnes and Noble.
WHOLESALERS: This book is distributed by Ingram Books and other wholesale distributors. Contact your representative with the ISBN for purchase. Wholesale purchase for retailers, universities, libraries, and other organizations is also available through the publisher; please email bookorder@aeg-online-store.com
Fo further Information contact:
Ellen Green, Press Manager, Strategic Book Publishing and Rights Agency, 703-899-8128,
pressmanager(at)sbpra(dot)net
Strategic Book Publishing and Rights Co, LLC