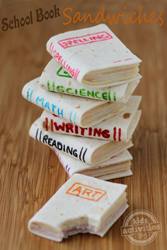 School book sandwiches make a healthy treat on the first day back to school.
Dallas, TX (PRWEB) July 27, 2014
Back to school is just around the corner. A fun school book sandwich recipe and over 80 DIY toys have been published on Kids Activities Blog. Have fun with the kids on their first day back to school.
School book sandwiches make a perfect treat for teachers and kids on the first day back to school. The tiny little books are cute and easy to make and will be a perfect healthy snack. They can also be personalized for any occasion.
Add the name of the child's favorite book for a book themed birthday party or just for lunch. Ingredients needed to make the sandwiches are soft flour tortillas, white cheese slices, slices of deli meat, like turkey or ham, mayonnaise, and food coloring markers.
Cut out the tortillas, cheese, and deli meat according to the dimensions listed on Kids Activities Blog. Assemble the sandwiches by stacking the tortilla, cheese, and deli meat to form a book.
Use a food coloring marker to write the title on the book cover and binding edge. Wrap the sandwiches well since they tend to dry out fast.
DIY toys are fun to make and play with. The kids will have fun taking things from around the house and turning them into a fun toy. Even better than that, it is saving money on all the many toys the kids take from the package and only play with a couple of times.
Make a bouncy ball right at home. Build a doll house with matching doll furniture, a miniature golf course, a car parking garage, and a shape sorter with items found around the house.
No need to buy expensive play dough toys. Plastic outlet covers make perfect play dough toys. Turning foam into a group of sea creatures will turn into fun bath tub play time.
For detailed instructions and to get additional fun ideas, check out Kids Activities Blog this week. Come get inspired to have a blast this summer.
About Kids Activities Blog
Kids Activities Blog is a website created by two moms (who collectively have 9 children), Holly Homer and Rachel Miller. Their new book was published this spring by Page Street, 101 Kids Activities That Are the Bestest, Funnest Ever! Kids Activities Blog is an interactive website that publishes fun things to do with kids twice a day. It is an amazing resource for moms, dads, grandparents, caregivers and teachers to find kid-friendly activities that create memories and sneak learning into the fun.