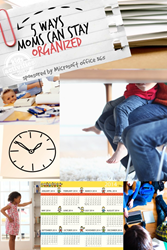 Get organized at home to keep everyone happy.
Dallas, Texas (PRWEB) July 25, 2014
Keeping the family organized is a full time job. Easy ways for Moms to be organized and simple concoctions for kids have been released on Kids Activities Blog. Keep the household safe and sane with simple tips from seasoned Moms.
When something goes awry, the whole family is affected. Accidentally leaving a lunch on the kitchen counter until the evening can create a domino-effect of chaos. Moms are sharing 5 tricks that keep the house from falling into a big overwhelming mess.
Mail management keeps the kitchen counter free from a mountain of letters. Once the mail is picked up from the mailbox, go straight to the recycling bin before putting it anywhere in the house. Instantly make mail stacks for Dad and Mom and put it into the office or desk in the house.
Other tips include making a central family calendar, using a file management software, getting the kitchen organized so kids can help, and scheduling home office hours on the family calendar.
One of the funnest activities for kids is making concoctions. Kid's hearts jump at the sounds of scented foam, edible dough, stretchy slimes, and mucky goops.
Concoctions are a great way to explore substances, textures, colours and chemical reactions. The best part of this is that all of the concoctions are made with 3 ingredients or less.
Puffy no bake paint, polka dot slime, rainbow salt dough, cloud dough, jello silly putty, glittery gold slime, chilly pretend ice cream dough, peanut butter play dough, and sand foam dough are only a few of the many recipes listed on Kids Activities Blog. The list includes recipes for children of any age level.
For detailed instructions and to get additional fun ideas, check out Kids Activities Blog this week. Come get inspired to get better organized and let the kids have a blast this summer.
About Kids Activities Blog
Kids Activities Blog is a website created by two moms (who collectively have 9 children), Holly Homer and Rachel Miller. Their new book was published this spring by Page Street, 101 Kids Activities That Are the Bestest, Funnest Ever! Kids Activities Blog is an interactive website that publishes fun things to do with kids twice a day. It is an amazing resource for moms, dads, grandparents, caregivers and teachers to find kid-friendly activities that create memories and sneak learning into the fun.