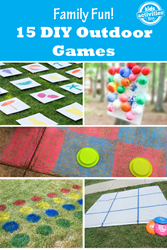 Backyard games are fun for a group of kids or adults.
Dallas, Texas (PRWEB) July 21, 2014
Backyard games are perfect for summertime. The best backyard games and over 200 learning-to-read activities have been released on Kids Activities Blog. Have a blast this summer outdoors with family and friends.
Backyard games are fun for a group of kids or even adults. The games include a handmade giant Jenga game and a flash light tag game. Other ideas include making a set of lawn memory cards to play a backyard memory game.
Use sidewalk chalk to make a giant checker board in the drive way. A simple frisbee tic tac toe is perfect for a quick game idea.
A giant pick up sticks game, an oversized dominos game, and a fun game of horseshoe will keep young and old entertained for hours.
The learning to read activities are great for kids of all ages. Learning through play is the best way to acquire new skills.
Make a story cube to form sentences to play a fun story game. A word family tic tac toe will be a fun way to learn sight words. Learning spelling words with a fun app can come handy on a road trip.
A word treasure hunt will be fun for any age child. Lego word games will be fun for any aspiring Lego builder. Let the kids have fun making words or even sentences by building with Legos or Duplos.
Drawing a giant word search or a cross word puzzle with chalk will be fun for the older kids to practice reading. The list is endless.
For detailed instructions and to get additional fun ideas, check out Kids Activities Blog this week. Come get inspired to have a blast together with the kids this week.
About Kids Activities Blog
Kids Activities Blog is a website created by two moms (who collectively have 9 children), Holly Homer and Rachel Miller. Their new book was published this spring by Page Street, 101 Kids Activities That Are the Bestest, Funnest Ever! Kids Activities Blog is an interactive website that publishes fun things to do with kids twice a day. It is an amazing resource for moms, dads, grandparents, caregivers and teachers to find kid-friendly activities that create memories and sneak learning into the fun.