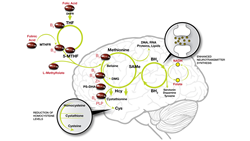 'Most patients reported their sleep was significantly improved, with a 22% reduction in fatigue and a 41% reduction in related emotional dysregulation.' - Arnold Mech, MD: The Impact of EnLyte on Sleep Quality
Sunset, LA (PRWEB) July 21, 2014
Sleep disturbances such as insomnia, hypersomnia, and poor sleep quality are closely correlated with depression. According to a study published by the National Institutes of Health: "About three quarters of depressed patients have insomnia symptoms, and hypersomnia is present in about 40% of young depressed adults and 10% of older patients, with a preponderance in females. The symptoms cause huge distress, have a major impact on quality of life, and are a strong risk factor for suicide." http://www.ncbi.nlm.nih.gov/pmc/articles/PMC3181883/.
Antidepressants and sleep aids are commonly used to manage these problems and come with undesirable side effects, such as dependency risk, memory/blackout issues, weight gain, sexual side effects, daytime drowsiness, etc. In fact, some antidepressants have even shown to worsen sleep quality. In addition, sleep issues during pregnancy are common, and safe sleep aid options for this population are extremely limited-pregnancy category B or C.
Both sleep quality and mood regulation are governed by neurotransmitter production. Over 50% of the general population possess the genetic polymorphism, MTHFR (methylenetetrahydrofolatereductase), a defect in the enzyme crucial to synthesizing the critical b vitamins essential in producing neurotransmitters.
Findings published in The American Journal of Epidemiology entitled, "Methylenetetrahydrofolate Reductase (MTHFR) Genetic Polymorphisms and Psychiatric Disorders: A HuGE Review state: "Our main finding was that the MTHFR C677T polymorphism is associated with major depression, schizophrenia, and bipolar disorder. The magnitudes of the associations were moderate but statistically significant."
Folate therapy is recommended by both the American Psychiatric Association and the APA Task Force on Complementary and Alternative Medicine as a safe, effective option in depression with a favorable side effect profile. EnLyte is an advanced folate therapy used in the treatment of depression and hyperhomocysteinemia, with a pregnancy category A rating, that is gaining much attention and support in the Psychiatric community. Because it contains highly refined and metabolized folates and cofactors, it bypasses the MTHFR mutation, and others common in mood disorders. To assess its effectiveness in sleep, Dr. Arnold Mech, MD of Mech HealthCare Associates, performed an open label study of EnLyte on sleep quality. According to Dr. Mech, 70% of patients with mood symptoms have a form of MTHFR, leaving them less able to efficiently convert folate (vitamin B9) and other B vitamins to their methylated, reduced form necessary for use in the production of neurotransmitters.
EnLyte was added to the treatment regimen for 4 weeks of 60 patients who had tested positive for one or two C677T allele MTHFR polymorphisms. Pre and post-EnLyte levels of fatigue were obtained per standard clinic protocol using the Fatigue Assessment Scale (FAS) and levels of emotional dysregulation (difficulties in frustration tolerance and impulse control) with the Mech Emotional Dysregulation Inventory (MEDI). At the end of the 4 weeks, most patients reported their sleep was significantly improved, with a 22% reduction in fatigue and a 41% reduction in related emotional dysregulation (i.e., impaired frustration tolerance and impulse control).
Given the prevalence and negative impact of sleep issues and depression, the findings of this study are significant: a natural, safe, and complete folate option that contains brain-ready, proven ingredients and is safe in pregnancy will offer many benefits over current options-such as no side effects or drug interaction issues.
About EnLyte
EnLyte contains 16 mgs Delta Folate, plus critical cofactors to completely address the remethylation and transsulfuration pathways. To learn more, visit http://www.EnLyteRx.Com.