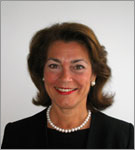 As with numerous decisions in any family office operation, it is essential that there is agreement and alignment of operational technology decisions with family goals and values.
Chicago, IL (PRWEB) July 21, 2014
Linda C. Mack, founder and president of Mack International, the premier retained executive search and family office strategic management/human capital consulting firm, has been selected to co-chair the Opal Financial Group 2014 Family Office & Private Wealth Management Forum: The Race for Returns, to be held July 21- 23 at the Hyatt Regency Newport in Newport, Rhode Island.
The conference is one of Opal's premier Private Wealth Series events for high-net-worth individuals and family offices from around the world. Linda C. Mack will co-chair the Forum and present opening remarks with Jason Cavanagh, CEO of the Saint Leonard Family Office (SFO), and Michael Pompian, Partner and Director of Private Wealth Practice, Mercer, LLC.
"Some of the most well-established family offices, private investors, money managers and private wealth service providers attend for three days of engaging discussions and peer-to-peer exchanges on not only a spectrum of current investments trends but also a variety of softer issues effecting current and future generations of families," Linda Mack explained.
In addition to co-chairing the conference, Mack will moderate a panel on Wednesday, July 23 titled "Operations and technology: Leading edge family office infrastructure and family office reporting." Panelists will include Mark Wickersham, Director, Netage Solutions, Inc., James Koutoulas, CEO, Typhon Access, Carl Sheeler, Director, Berkeley Research Group, LLC and Melissa Mattison, Vice President, Strategic Solutions.
According to Mack, the session will explore key evolving operational reporting and technology trends and the impact of these trends on family offices. "We will discuss how ownership structures, asset allocation and client requirements affect reporting needs of single and multi-family-offices, and what considerations these organizations should take into account before embarking on significant technology investment, upgrades or changes," Mack said.
"The session will also cover key challenges that single and multi-family-offices face in successfully changing or upgrading reporting technology. Panelists will offer insights into how to best determine the family's core technology and reporting needs; whether resources and expertise exist in-house and when to outsource; security, confidentiality and reliability issues; and how to maintain successful operations during changes," Mack continued.
"As with numerous decisions in any family office operation, it is essential that there is agreement and alignment of operational technology decisions with family goals and values," Mack said.
The Forum will also have presentations explore the challenges and opportunities associated with investing in emerging markets, alternative investments, real estate, gold, and numerous other asset classes, and will also include sessions addressing other issues of import to family offices such as office structure, taxation and regulation, risk management, high-impact philanthropy and technology trends.
Opal Financial Group will kick off the event with its Annual Americas Regatta Cup, in which attendees will have the opportunity to work with a professional sailing charter crew while competing against industry peers.
Mack International, LLC, headquartered in Chicago, is a global retained executive search and strategic management/human capital consulting firm serving national and international clients in the family office, family business enterprise and the wealth management industries. Linda C. Mack develops close, consultative partnerships with clients and candidates, and has achieved an exceptional track record of success as evidenced by consistent referrals, repeat engagements and long tenures of candidates placed. For more information, visit http://www.mackinternational.com or call 800.976.0015.