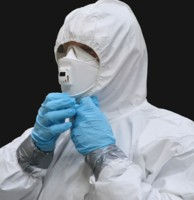 A dose-response relationship [with mesothelioma] was observed in both groups...
Raleigh, NC (PRWEB) July 25, 2014
Researchers at the University of Bordeaux in Bordeaux, France have just released the results of a study indicating that a man-made material used in high-heat insulation may increase the risk of developing mesothelioma among workers exposed to asbestos. Surviving Mesothelioma has just posted an article on the new study. Click here to read it now.
The French scientists studied the work histories of 988 men who had developed mesothelioma between 1987 and 2006. One group of workers had been exposed to asbestos only while the other group had been exposed to both asbestos and a man-made high-temperature insulating material called RCF.
"A dose-response relationship [with mesothelioma] was observed in both groups but it was stronger in Group 2," reports lead investigator Aude Lacourt of the University of Bordeaux.
The study published in the European Respiratory Journal found that in workers exposed to both asbestos and RCF, the risk of mesothelioma was four times higher than it was among people who had only been exposed to asbestos.
"Although we know that asbestos can cause mesothelioma, we still do not fully understand the other factors that may compound that risk," says Surviving Mesothelioma Managing Editor Alex Strauss. "But understanding those factors such as RCF is the first step toward avoiding them."
Find details of the new study, including the places where RCF can be found, in Man-Made Fiber May Compound Mesothelioma Risk from Asbestos now available on the Surviving Mesothelioma website.
Lacourt, A et al, "Co-exposure to refractory ceramic fibres and asbestos and risk of pleural mesothelioma", July 17, 2014, European Respiratory Journal, Epub ahead of print, http://erj.ersjournals.com/content/early/2014/07/17/09031936.00079814?related-urls=yes&legid=erj;09031936.00079814v1#aff-1
For nearly ten years, Surviving Mesothelioma has brought readers the most important and ground-breaking news on the causes, diagnosis and treatment of mesothelioma. All Surviving Mesothelioma news is gathered and reported directly from the peer-reviewed medical literature. Written for patients and their loved ones, Surviving Mesothelioma news helps families make more informed decisions.