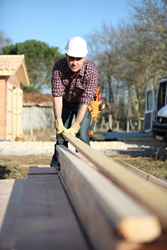 The index for prospective home buyer traffic remained below the benchmark at 39.
Chicago, IL (PRWEB) July 19, 2014
The Federal Savings Bank was intrigued by the latest Housing Market Index from the National Association of Home Builders. The report revealed that builders had a positive opinion of current conditions in the U.S. real estate market in July.
The HMI had a reading of 53, marking a four-point increase month over month, and the first time that it has been higher than 50 since the start of 2014. Scores above that benchmark indicate that builders view home sale conditions as good rather than poor. Builders are surveyed to determine whether they rate the current traffic of prospective home buyers as "low to very low," "average" or "high to very high."
"This is the first time that builder confidence has been above 50 since January, and an important sign that it is strengthening as pent-up demand brings more buyers into the marketplace," said Kevin Kelly, NAHB chairman and a home builder and developer from Wilmington, Delaware.
In addition to providing an overall figure, there are three categories that are measured within the HMI. The current sales HMI went up four points compared to the previous month to stand at 57. Future sales expectations were also in positive territory, increasing six points from June to reach 64 in July. The index for prospective home buyer traffic remained below the benchmark at 39, though it rose three points from the previous month. The Federal Savings Bank thinks first-time home buyers which perhaps just started working will need to put in a few years of credit history at a decent salary before having the ability to apply for a mortgage.
Where are the home buyers?
As indicated by the data, builders aren't seeing many consumers in the market for a home purchase. Various factors have been at play with the lower rate of activity, though demand has held steady.
"An improving job market goes hand-in-hand with a rise in builder confidence," said David Crowe, NAHB chief economist. "As employment increases and those with jobs feel more secure about their own economic situation, they are more likely to feel comfortable about buying a home."
Jed Kolko, chief economist for Trulia, recently said that wage growth still has a ways to go before it catches up with home price appreciation, though the pace of property value gains has slowed. He said this was more evident in areas with the largest year-over-year price growth, where homes are typically more affordable.
For information about jumbo loans and other low cost mortgage options to help you finance a home and increase housing market buyer activity, contact the Federal Savings Bank, a veteran owned bank.