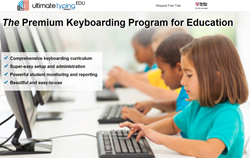 A keyboarding class doesn't need to be time-consuming and boring...
New York City, NY (PRWEB) July 22, 2014
eReflect's latest software for schools, Ultimate Typing™ EDU, is now available for a no-cost trial. The offer is extended to every school administrator worldwide who wishes to integrate a keyboarding curriculum in their school to help students get a head start in today's competitive job market.
Now school administrators get a chance to see firsthand many of the features of Ultimate Typing™ EDU and explore how it can be integrated in existing tech courses without disrupting course outcome objectives. The cloud-based Ultimate Typing™ is specially designed for the classroom, offering easy setup and administration for teachers and supervisors as well as state-of-the-art technology that allows for effortless live student progress monitoring and reporting, eReflect emphasizes.
To get more schools to see how Ultimate Typing™ EDU can help students, eReflect is presenting a free trial of the program with no time limits to any school administrator anywhere in the world. For education directors and school principals planning out the next school year, the program will give a lot of relief and free up curriculum time, eReflect forecasts. The company is confident of this outcome because Ultimate Typing™ EDU has been designed by experts. This means that with only 10-15 minutes a day, a student will experience substantial improvement in their typing skill. As a result, schools that teach basic typing skills with Ultimate Typing™ EDU will be able to use that spare time for the rest of the year teaching other necessary tech skills to their students.
A keyboarding class doesn't need to be time-consuming and boring; this is an idea that has been the impetus for eReflect's product from the beginning. By building on this premise, incorporating the best knowledge from typing experts and curriculum specialists, Ultimate Typing™ has become a top-rated self-education program that lets people improve their typing skills by focusing on their individual learning needs. As part of the next generation of typing tools, eReflect now presents Ultimate Typing™ EDU, a school-tailored typing tutor that makes a keyboarding class fun, effective and easy to follow. Learning how to type might not be on the agenda for many schools at the moment, but with Ultimate Typing™ EDU, advanced typing skills will become a reality for thousands of students around the world.
*********
For more details on Ultimate Typing™ EDU, please visit http://www.ultimatetyping.com/schools.
About Ultimate Typing™
Ultimate Typing™ software is designed specifically for the improvement of typing skills. Created by eReflect, a world leader in e-learning and self-development software, Ultimate Typing™ has been informed by the latest developments in the science of touch typing.
Since its creation in 2006 by Marc Slater, the company has already catered to over 112 countries all over the world, offering products with the latest cutting-edge technology, some of which are among the world's most recognized and awarded in the industry.