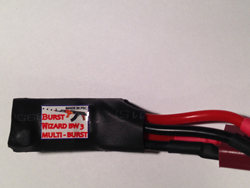 BW 3 levels the airsoft game playing field for everyone!
Temple City,CA (PRWEB) July 23, 2014
Airsoft Electric Gun technologies have advanced so much in the last decade! With growing demands from players around the world, there are now close to thirty AEG manufacturers that make quality AEG that look and feel like a real steel.
The most challenging part of an AEG design is in its gearbox. With high torque motors, highly efficient 11.1V LIPO battery and strong spring options that most users prefer to use, gearbox shell and internal gear set design can never keep up without adding significant cost to the AEG.
Although there have been huge improvements in its longevity, even from an entry level gun, gearbox is still the most likely part to break first – one of the reasons why some people still favor gas-powered guns.
From the electrical side, there are also great advances in technology to make higher torque motors, better trigger contacts and electrical cables.
There are some AEGs that even come with MOSFET circuit to protect the trigger switch and a few also have 3-round burst function, but the user experience is still lacking the perceived realism that everyone loves to have from playing with an Airsoft Electric Gun.
That is why airsoft gas guns still exist, and expensive guns offered by Polar Star, Daytona and Systema are still in great demand.
But with the introduction of the Burst Wizard 3 – 100% MILSIM MOSFET, it is going to revolutionize the airsoft game and playing experience! Burst Wizard 3 is going to level the playing field for everyone.
Now, airsoft game lovers don't necessary need to buy a $700+ gun to get the trigger response and real steel ROF firing capability like the Polar Star or Systema guns. Instead, they just need to get a Burst Wizard 3 along with a compact 11.1V LIPO battery to accomplish very similar firing capability and performance!
Not only can the new AEG fire real steel ROF of around 15 to 20 rounds per second, it does that in burst and full auto modes just like any expensive gas gun while giving the user absolute best trigger response possible, and making every AEG (GEARBOX) truly LIPO ready and friendly. The first bullet that matters the most in hitting the opponent always fires at the quickest time with 1.1V LIPO battery and precocking option provided by the Burst Wizard 3.
What is more for realism is that players can emulate real steel magazine capacity and change time even if unrealistic high capacity magazines are used without affecting their MILSIM playing experience.
At this moment, there isn't any upgrade in equipment that an airsoft player can get at USD$50 that can instantly transform an AEG from an average gun into an elite one while enhancing the fun, performance, reliability and safety of his game.