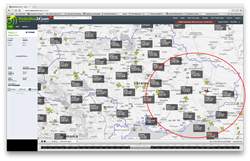 Tampa, FL (PRWEB) July 22, 2014
A lot of speculation has been seen on the media and on social networks regarding which companies were flying on the same airspace of Malaysia Airlines flight 17.
As an independent provider of real-time and historical ADS-B flight data solutions and with thousands of ADS-B receivers deployed all over the world, RadarBox24.com can disclose a screen shot showing the airspace in Eastern Ukraine at the time of the crash.
We can easily identify the following flights:

Malaysian Airlines: MAS17 - B772 - 9M-MRD - Amsterdam -> Kuala Lumpur
Singapore Airlines: SIA351 - B772 - 9V-SVI - Copenhagen -> Singapore
Singapore Airlines: SIA333 - A388 - 9V-SKS - Paris CDG -> Singapore
Austrian Airlines: AUA660 - F70 - OE-LFI -> Rostov-Vienna
Eva Airways: EVA88 - B77W - B-16713 -> Paris CDG - Taipei
Aeroflot: AFL2074 - A320 - VQ-BBB - Moscow -> Larnaca
On a route slightly south of where the accident happened:

Jet Airways: JAI118 - B77W - VT-JEH - Bombay -> London Heathrow
Virgin Atlantic: VIR301 - A333 - G-VRAY - Delhi -> London Heathrow
For any questions, including to get an hi-resolution version of the screen shot, email us at support(at)radarbox24(dot)com
For daily worldwide airspace updates, visit:
http://www.twitter.com/radarbox24
http://www.facebook.com/radarbox24
http://www.radarbox24.com
AirNav RadarBox is the world's best-selling and most advanced Real Time ADS-B receiver. It was designed by professional pilots and is the first and only ADS-B receiver with a presence in space. By decoding ADS-B (Automatic Dependent Surveillance Broadcast) radar signals, users are able to see what real Air Traffic Controllers see on their computer screens in Real-Time. Flight number, aircraft type, altitude, heading, speed are all updated each second. Included is the award-winning software interface developed by the world's leader in flight tracking and monitoring solutions, AirNav Systems.
About AirNav Systems:
Headquarter in Tampa, FL, AirNav Systems has been developing software and hardware solutions for the aviation world since 1996. AirNav Systems offers a complete set of flight tracking and monitoring tools for all kinds of aviation related users. Always with high quality standards and innovative features not found in any other similar programs, AirNav Systems products have been reviewed in more than 100 magazines, newspapers and on TVs and Radio worldwide.