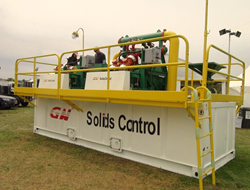 Houton,Texas (PRWEB) July 23, 2014
GN Oil gas drilling solids control system complete line of products get the CE marking certificate for entering Europe market by DNV. Recent years, Chinese drilling equipment manufacturers are growing fast. Now more and more Chinese products have been exported to overseas countries. As a top drilling equipment manufacturer, GN Solids Control can supply high standard products to meet the Europe regulations with CE certification. Moreover, GN Solids America, the branch company of GN solids control in America has been successfully developing the market in north America for drilling mud solids control system and drilling waste management.
According the CE Marking certificate, GN Solids Control System Has, on a voluntary basis, been assessed with respect to the requirements for documentation specified in Annex VII, Part A, 1.(a) and Essential Health and Safety requirements in Annex I of Council Directive 2006/42/EC on machinery, and found to comply.
GN CE Certificate Products Name: Solids Control System.
GN CE Certificate Products Models including following:
1) GNMS-350HP workover rig (XJ350 350HP) solids control system.
2) GNMS-550HP workover rig (XJ550 550HP) solids control system.
3) GNMS-750HP Workover rig (Xj750 750HP or ZJ30 ) Mud Tank system
4) GNMS-1000HP oil drilling rig (ZJ40 1000HP) solids control system for 4000M drilling rig.
5) GNMS-1500HP oil drilling rig (ZJ50 1500HP) mud circulation system for 5000M drilling rig.
6) GNMS-2000HP oil drilling rig (ZJ70 2000HP) solids control system.
GN Solids Control System CE certificate Applications/Limitations
This GN Solids Control system Certificate only relates to 2006/42/EC Machinery Directive. Other directives, covering other phenomena, and also having requirements related to CE marking, might also apply.
GN Solids Control System Documents reviewed
Technical construction file was stored in ConCert, Project no: PRJC-499395-2014-PRC-CHN, Activity type: DA-I.
Conformity declaration and marking of GN Solids Control System.
In order to fully meet with the requirements of the Directive and legally affix the CE mark, the manufacturer GN Solids Control will take all measure necessary to ensure that the manufactured product complies with the technical documentation and with the requirements of the Directive and finally draws up and EC declaration of conformity.
GN Solids Control System normally include following solids control equipment.
1) Mud Tanks: Trip mud tank, Shaker Tank, active mud tank, storage tank, mud mixing tank, water tank.
2) Mud Gas Separator or we call poor boy degassers.
3) First phase solids control equipment: Shale Shaker with different API mesh screens.
4) Secondary phase solids separation: 10 inch desander cleaner or mud cleaner.
5) Third Phase solids separation: 4 inch desilter cones or mud cleaner.
6) Fourth phase solids control: Middle speed decanter centrifuge or high speed decanter centrifuges
7) Vacuum degasser is normally install after the shale shaker, so the four phase solids control system is also called 5 phase purification system.
8) Other equipments like mud agitators, mud guns, centrifugal pumps, mud tank attachments, mud mixing hoppers.
There are many flow lines of mud and water in the solids control system, includes mud cleaning circulation line which goes from mud tank to mud pump. And later it goes to the drilling rig, and after that, the mud goes to the flow line. Later on, the mud will by handled by shale shaker, vacuum degasser, desander, desilter, and finally the mud goes to the decanter centrifuge,after centrifuge, goes to the mud pump again. It is a closed loop circulation system.
The mud gun line starts from the desander compartment to all the other tanks. Clean water line is put all through the tanks from water tank to supply water. The mud mixing line is able to circulate from any mixing tank compartment, the mud suction line is available for the mud pump to suck mud from any active mud tank or storage tank. The overflow chute allows the mud system to keep balance of the mud in different mud tanks.
GN Solids Control system is not only CE certified, but also GN is certified by API standard and HSE.GN ISO standard comply with ISO 140001, ISO 18001. With the one source manufacturer, the configuration of GN Solids control system is the most cost-effective solution for the drilling companies. This feature saves a lot of time and cost for the maintenance. So GN solids control system can sell to all the countries around the world includes America, Europe, Middle East, Russia, Australia etc.
About the GN CE marking solids control system applied countries:
CE marking is mandatory for certain product groups within the European Economic Area (EEA; the 28 member states of the EU plus EFTA countries Iceland, Norway, Switzerland and Liechtenstein, plus Turkey). The manufacturer of products made within the EEA and the importer of goods made in other countries must ensure that CE-marked goods conform to standards.
As of 2013CE marking was not required by countries of the Central European Free Trade Agreement (CEFTA), but members Republic of Macedonia, Serbia, and Montenegro had applied for membership of the European Union, and were adopting many of its standards within their legislation (as did most Central European former member countries of CEFTA that joined the EU, before joining).
Contact:
GN Solids America LLC
Web: [http://www.gnsolidsamerica.com
Tel:+1-7138780880
Add:6710 Windfern Road, Houston, TX 77040, USA