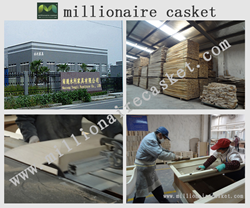 (PRWEB) July 21, 2014
MillionaireCasket.com is a leading producer of high-quality caskets and other funeral products that are custom-made in China. Now, the company introduces its pecan caskets to the customers. Moreover, the discounts available are as much as 28%.
MillionaireCasket.com's rich experience gives it a unique understanding of what worldwide distributors actually want. The company has been working in the casket industry for over ten years; a lot of its items have been highly appreciated.
Different customers have different requirements. In recent years, MillionaireCasket.com has designed many kinds of caskets that have various interior and exterior structure and decoration to meet customer demand, such as metal caskets, veneer caskets, wood caskets, cremation caskets, orthodox caskets, rental caskets and many others, and its new collection of pecan caskets is very popular.
The company's senior spokesman says, "We are doing more and more business in the world, and we knew MillionaireCasket.com could handle the position and become a global leader." The company has added a new production line recently. Now, its productivity has increased 30% percent, which comes along with a lower average price on every casket. The USA and Australian markets are very important for every casket manufacturer; MillionaireCasket.com has decided to explore its effluence in these markets.
About MillionaireCasket.com:
MillionaireCasket.com is a leading casket company that focuses on the business of casket wholesale. This company offers an exquisitely crafted line of all kinds of metal caskets, solid wood caskets, veneer caskets, cremation caskets, rental caskets, orthodox caskets, infant or over-sized caskets, and European style coffins. The standard quality control policy is strictly applied here, and a third party quality assurance is also available.
More information can be found at http://www.millionairecasket.com/76-pecan-caskets.