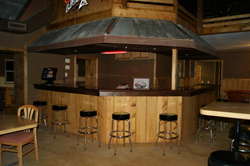 . Metal bar stools are a great choice because they are so durable
Bethel, MO (PRWEB) July 21, 2014
Leading commercial furniture distributor, Restaurant Furniture Supply recently helped Smokin' J's Bar and Grill in Bethel, MO by providing it with new bar stools.
Smokin J's is located in the village of Bethel Missouri. Their menu include bar fare such as burgers, pizza, grilled chicken, steak sandwiches, salads, jumbo fried shrimp, sliders and appetizers such as sweet potato fries and Monterey Jack beer battered sticks. They also offer specials from time to time such as gator meat, frog legs, T-bone steak, baby back ribs, barbeque brisket, fried catfish and prime rib. They also have a full service bar with many beers on tap.
The bar offers live entertainment on selected evenings. There is a stage for performances. Customers can enjoy games such as darts. On August 2 they will have their first annual Bikes & Butts, Brats & Beer Bike show. There will also be a poker tournament and 50% of the winnings will be donated to Honor Flight Hours of Fun. There will also be games all day on lawn behind Colony Barn – corn hole tourney, beer frisbee, Washers, bike games and more.
When the owner decided to update the seating, he turned to Restaurant Furniture Supply for new commercial bar stools because of their reputation for excellent quality at affordable prices explained sales person Chris K. He opted to go with Restaurant Furniture Supply's Chrome Backless Swivel Bar Stool with Single Ring. "It's one of our most popular bar stools" said Chris, salesperson for Restaurant Furniture Supply. "The classic design really fit in nicely with the decor. Metal bar stools are a great choice because they are so durable. Restaurant Furniture Supply is well known for its high quality commercial furniture which can withstand heavy traffic and not become unstable or worn out for many years."
The Chrome Backless Swivel Bar Stool is currently on sale for $32.50 from Restaurant Furniture Supply with a single ring or $34.50 with a double ring. The frame is made of polished chrome and the bar stool swivels 360 degrees. The high density padded seat is American made upholstered in black vinyl. As with all of Restaurant Furniture Supply's commercial chairs and bar stools, it comes with a one of the most comprehensive warrantees in the industry and is guaranteed to be free of manufacturer defects for one year.
Browse Restaurant Furniture Supply's full selection of commercial grade chairs, bar stools, table tops, table bases, booths and patio furniture at http://www.restaurantfurnituresupply.com/ or talk to a customer service representative at (888) 346-9992.
Smokin J's is located at 136 N. Main St. in Bethel, MO. They can be contacted at: (660) 284-6800.