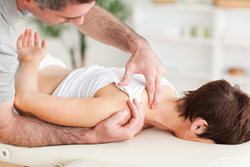 New York, NY (PRWEB) July 21, 2014
Niel Asher Healthcare announces publication of a new NAT study in the International Journal of Osteopathic Medicine (IJOM).
"Publication of this study is extremely important for both therapists and anyone suffering from a medium to severe shoulder problem," says osteopath Simeon Niel Asher who developed the NAT treatment technique back in 1997.
"Too many shoulder patients suffer needlessly, and way too many undergo surgery which is often risky, unreliable, and unnecessary. We have been working hard to spread the word about NAT for years. There are now over 5,000 certified NAT therapists, but shoulder problems are common and there is demand for many more NAT certified therapists. We are anticipating that the publication of this report will help introduce thousands more therapists to NAT, and help tens of thousands more shoulder patients to a full recovery."
Whilst treating a particularly difficult case of frozen shoulder back in 1997, Simeon Asher discovered that stimulating particular trigger points in an unusual sequence seemed to have tremendous effects in reducing pain and increasing range of motion (AROM) - he recognized there was an unusual phenomena at work and decided to find out more. Simeon first published details of the technique (NAT) in 1999.
Subsequently, Simeon has worked closely with an ever growing group of therapists (including physiotherapists, osteopaths, chiropractors, sports massage therapists) to refine the technique both for the treatment of frozen shoulder and as it applies to the treatment and rehabilitation of other common shoulder conditions including rotator cuff tears, bursitis, dislocations, and arthritis.
"NAT should form part of every therapists knowledge-base," says Simeon. "This latest study published by the IJOM confirms the results of NAT as shown in clinical trials held at Cambridge University Hospital in 2003. Most importantly, the study supports the notion that NAT is autonomously reproducible, which is exactly why it is so easy to teach and learn."
Voted one of London's Top 10 osteopaths by the London Evening Standard, Simeon has been practicing osteopathy for over 20 years. Most of his time is spent treating shoulders including the shoulders of many of the worlds leading athletes including baseball, basketball, and football players.
"Ask any sports physio, and they'll tell you that shoulder problems are complex to treat, especially when treating athletes or people who need or want to return to regular sport. Whilst for example, many common knee injuries can be treated quite easily and effectively with surgery nowadays, the bio-mechanics of the shoulder are far more complex and the surgical outcomes are less easy to predict. We know that the use of NAT prevents thousands of unnecessary shoulder surgeries taking place every year, and nothing makes me happier than that!"
Pointing to a well known soccer player who I had seen on the sports pages of my newspaper that very morning, Simeon is quick to point out that NAT is also tremendously effective when used as part of the rehabilitation program for patients who have undergone shoulder surgery. Simeon says, "The success of shoulder surgery is deeply dependent upon the patient working through a correct rehab program. The application of NAT will almost certainly enhance the effectiveness and possibly speed-up post surgical rehabilitation."
To see a slide presentation of the NAT Study, please visit: http://www.frozenshoulder.com/NAT.
To locate an NAT therapist in your area, please visit: http://www.frozenshoulder.com/search.