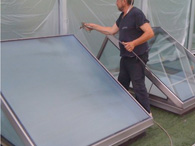 The biggest issue with the introduction of skylights into architecture has been that glass typically is not a good insulator in most cases, so heat transfer happens more readily through skylights and glass windows & doors
London, UK. 21 July 2014 –
(PRWEB UK) 23 July 2014 -- Nanotech Coatings UK Ltd brings American designed Nanotechnology protective coatings to the UK, Germany and Austria, and in a new round of products available to landlords of commercial building, homeowners and DIY enthusiasts the latest coating is especially designed for windows and skylights.
Modern skylights incorporate glass or Perspex (Lucite) to bring a bit of the outdoors and natural light inside our homes and buildings.
Kevin Buchler, Managing Director at Nanotech Coatings UK Ltd says: "The biggest issue with the introduction of skylights into architecture has been that glass typically is not a good insulator in most cases, so heat transfer happens more readily through skylights and glass windows & doors than walls or ceiling building materials, additionally issues with condensation and UV are ones that many facility managers have experienced." Glass skyscrapers are being blamed for reflecting light, acting like mirrors, and in certain instances even causing fires like a parabolic mirror, these events are not unprecedented.
Nansulate® Energy Protect aims to reduce:
1. Heat loss and gain
2. Glare
3. Condensation
4. UV light penetration
Nanotechnology based thermal barrier coatings which were created for building walls, ceilings, and roofs, have been utilised more recently to solve many of the issues that skylights and glass windows and doors can experience.
This patented technology has been in use in industry and buildings for over 10-years, and has been adopted by customers specifically to address the needs of windows and skylights, which were not easily addressed in the past.
Some of the benefits Nansulate can bring include:

Spray-On Energy efficiency
Clear, matte finish which diffuses the light and helps to reduce glare
Saving fine art from UV fading
Application Technique for Glass
Energy Saving (average 15-30% reduction in utility bills).
According to Buchler: "One of the particularly attractive things about this coating technology is that it is applied like a paint and can be easy sprayed over both the glass and the frame of a skylight or window".
In independent testing over pane glass, the technology was shown to significantly reduce heat transfer, while also reducing UV rays by approximately 80 percent. The coating has also proven in the same spectrophotometer testing to allow through approximately 92 percent of the visible light - which is of course important, since that is the key reason the skylights are installed in the first place.
The coating can be applied to either the exterior or interior facing surface of the skylight or window. For more information about Nansulate® Energy Protect
check out Nanotech's case studies and application guides at its website: http://www.nansulate.co.uk
To take advantage of the latest summer offer find Nanotech on Facebook (/nanotechcoatingsuk) and Twitter (@NansulateEurope).
About Nanotech Coatings UK Ltd
Nanotech Coatings UK Limited, sole distributor of Nansulate® insulation thermal clear coatings for UK, Germany & Austria, and main distribution hub for Europe, has a staff with over 20 years of experience within the residential, industrial, commercial and retail property sectors. The company has an extensive client base, as well as ongoing contact with major developers, industrial companies, and other well-established organisations within the property development industry, and enjoys the support from seasoned property experts in understanding the implications of economic and environmental challenges on business initiatives.
About Nanotech Industrial
Industrial Nanotech Inc. is a global nanoscience solutions and research leader. The Company develops and commercializes new and innovative applications for sustainable nanotechnology which are sold worldwide, including Nansulate® thermal insulation and asset protection coatings.
Additional information about the company and its products can be found on their website.
About Nansulate – Nanotechnology coatings
This technology is a thin film thermal barrier insulation, the coating does not carry an r-value (a measurement created for 1" thick fibrous insulation), however it has been tested according to other heat transfer and building standards, such as the ISO 8990_1999 "Standard Test Method for Steady-State Thermal Performance of Building Assemblies." This testing, over 8cm cement wall sections with plaster, showed a 34.8% reduction in heat transmission. Customers who use the technology for all types of building envelope applications report a reduction of between 20% to 40% on both heating, and cooling costs, depending upon application. More data is available from Nanotech Coatings UK Ltd.