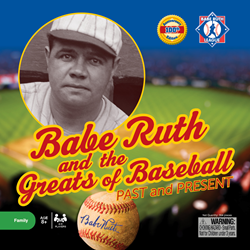 Help us back the Babe's new game on KickStarter.
(PRWEB) July 22, 2014
Since his passing over 60 years ago, Babe Ruth still remains the greatest figure in professional baseball and one of the true icons in American history. He impacted the game in a way never seen before, or since. From calling his own shot to completely rewriting many of the all-time record books for hitters, Babe Ruth dominated the game of baseball like nobody else. He continues to be the benchmark by which all other players are measured. Despite playing his last major league game back in 1935, the Babe is still widely considered the greatest player that ever played the game and remains an American icon.
In celebration of the 100th anniversary of Babe Ruth's debut in professional baseball, a new board game for baseball fans has been created to capture the legend of Babe Ruth and other baseball greats past and present. Put your knowledge of the Bambino and other baseball greats to the test with this new unique board game which effectively combines baseball knowledge, strategic skill and a little bit of luck. Correctly answer general baseball questions to get timely hits, steal bases and score more runs than your family and friends. Gain clues and guess the identity of different baseball greats to win the game and join Babe Ruth's own all-star team.
Now you can be part of the Babe Ruth Legend and help the Babe hit another grand slam home run out of the ball park by backing the Babe's game today on KickStarter.
About Golden Hall of Fame Games Ltd.
Golden Hall of Fame Games is committed to identify, secure and build popular licenses as well as proprietary products. The management team has over 80 years of combined experience in every facet of the industry and is well-equipped in leveraging their strong industry relationships to quickly establish international sales and distribution channels, and facilitate aggressive product development.
Contact Us:
Corrado Mizzi
cmizzi(at)netimpacts(dot)com