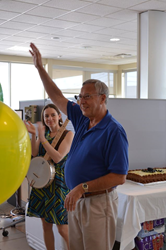 Bow, NH (PRWEB) July 28, 2014
At 71 years of age, Chris Pappas is retiring from The Grappone Automotive Group. Chris will be missed not only by all the team members at Grappone, but by all the individuals he has built relationships with throughout his 37 year long journey. It is incredible how he has impacted municipalities and organizations all throughout the state with his relaxed charisma and character.
Grappone's mission is to build lifelong relationships with their guests and community by serving them with integrity kindness and respect. If Grappone's mission was a walking, talking, breathing physical life-form; Chris Pappas would be its avatar.
Chris started his journey with Grappone on November 15th, 1971, working at their Pontiac dealership in a hybrid position as General Store Manager and Fleet Sales Representative. After 12 years at the Pontiac dealership, Chris decided he wanted to try something new and left Pontiac. Shortly after Chris left, John Grappone called him several times asking him to come back and work for Grappone once again. Chris took sometime to think about it and ultimately accepted the job. He continued his career at the Ford store for the remaining 25 years of his career.
Chris has had an amazing and successful career at Grappone as their Fleet and Commercial Sales Representative. Throughout the course of his career, Chris has sold more than 10,000 vehicles. That is an average of 270 vehicles per year. Chris has worked with nearly 75% of all municipalities throughout the State of New Hampshire. Most notably he has worked with the City of Concord, Manchester, and Portsmouth in supporting their fleet and commercial needs. Chris has also worked with many state organizations such as the Department of Transportation (DOT), Department of Safety, Fish and Game, and the Department of Resources and Economic Development (DRED) to name a few. On the commercial side of his career, Chris has dealt with many different organizations along his journey such as Brake & Clutch Inc., Donovan Equipment, Hews Company, and Howard Fairfield.
When asked about the "highlights" of his career Chris stated, "There are many things that I could reference as being a potential highlight, but I think if I could highlight one thing, I would highlight all the relationships that I have established along the way." After interviewing Chris, it is clear that those relationships are what made him what he is today as an iconic figure in today's New Hampshire fleet and commercial sales network.
Upon Chris' retirement, the board of directors at The Grappone Automotive Group threw him a farewell luncheon at their Ford dealership. Many team members and previous clients of his attended to wish him luck on his future endeavors. Grappone's owner Amanda even played a farewell song entitled "Fly Away" on the banjo. Chris Pappas has been an instrumental asset to The Grappone Automotive Group and his service, charisma, and character will never be forgotten.