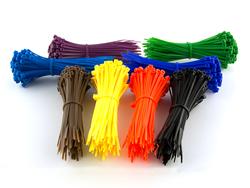 Secure™ Cable Ties hosts every form of zip tie and leaves no stone unturned to satisfy its customers.
Quakertown, Pa (PRWEB) July 24, 2014
Market researchers have recently named Secure™ Cable Ties as one of the foremost storefronts in online marketing. At a recent conference Secure™ Cable Ties executives provided a detailed picture of their recently renewed inventory.
Secure™ Cable Ties just finished their inventory refilling on the 7th of this month, and professional analysts say that it is sure to be one of the largest in the online merchandising realm.
"Secure™ Cable Ties perform a quarterly reappraisal and inventory checking each year. It helps the company manage future orders," said George McDowell, product manager with Secure™ Cable Ties. When inquired as to which merchandise usually needs the largest pile-up, George McDowell replied, "Most of the segments at Secure™ Cable Ties have an almost equal stock influx but the one for Zip Ties has to be the largest. Secure™ Cable Ties was initially a franchise, which specialized in zip ties, after all and that is which brings in the maximum orders."
"All the Zip ties from Secure™ have a high sales rate with a 95% order rate in 2013," explained Jeramie Cavanaugh, market analyst with Secure™ Cable Ties. Jeramie Cavanaugh went on to explain the whole segment of zip ties available at Secure™ Cable Ties. "This is the reason providers need to keep an large inventory available, especially the heavy duty zip ties from Secure™ with a tensile capacity of 120lbs. The Secure™ Stainless Steel Zip Ties are popular with consumers who run a SOHO business. However the most famous ones are the Identification zip ties and the Standard zip ties. Our customers find these lines of zip ties from Secure™ most cost-effective."
The members of the conference had already done their homework and they knew that Secure™ Cable Ties has a very wide range of zip ties. When queried about the alternatives, George McDowell said, "Zip ties are a utility that has to come in variants. Depending on the need of the customer, different Zip ties can be chosen. Customers at Secure™ Cable Ties come from different fields of work and thus order their preferred zip tie. Secure™ Cable Ties hosts every form of zip tie and leaves no stone unturned to satisfy its customers."
From their devotion to consumer satisfaction, it is not a question as to why they have achieved such soaring levels of success in these recent years when there are some fraudulent companies out there and consumers are still afraid to purchase online. George McDowell said, "Secure™ Cable Ties has rigorous policies on our website that assure our customers complete purchasing safety. When it's with us, online shopping is a breeze."