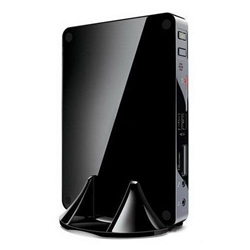 When we see a customer wanting to use the product in a certain way, we put serious thought into that feature request. Some of our best features have come about that way. - William Haynes, Sabai Technology Founder and Chief Technology Officer
Simpsonville, South Carolina (PRWEB) July 22, 2014
Sabai Technology is making its VPN Accelerator easier to use by adding built-in proxy. The VPN Accelerator first shot to popularity for its ability to provide desktop VPN speeds to wireless VPN service, when used with a Sabai VPN Router.
In the personal VPN community, speed is king. And the VPN Accelerator, Sabai's exclusive x86 network appliance product, was built for speed. It was created to increase the throughput over a Sabai VPN Router, which is vital as consumers access streaming media, downloads and gaming. The VPN Accelerator increases wireless VPN throughput up to five times.
A close second to speed, however, is control over network traffic. Rarely do consumers who run IP relocation technology want every device in their home affected.
Sabai Technology now offers a layered approach to give users greater control. In addition to Gateways, our proprietary feature that broadcasts both a local and VPN IP address over a single router wireless signal, proxy allows users to designate both local and IP relocated traffic by browser on a single device. This provides endless flexibility for users and is easy to set up.
"The idea is that if a customer has a computer on their VPN network that they want to use both locally and over VPN, they won't have to log in to the router interface to change the gateway," explains William Haynes, founder and Chief Technology Officer for Sabai Technology. "You can have one browser running local and another running VPN simultaneously."
The idea for built-in proxy came from customer feedback, as many of the company's ideas do. "We have a great relationship with our customers. Our technical support is in-office and constantly in discussion with our development team," Haynes says. "When we see a customer wanting to use the product in a certain way, we put serious thought into that feature request. Some of our best features have come about that way."
The proxy addition is part of a wider product update that improves the interface, stability, quality-of-service, port forwarding, better hardware specs and more. The VPN Accelerator update is in the final stages of beta testing, and Sabai is accepting pre-order sales of the version two. The product update will begin shipping August 1st, when a new increased price goes into effect. Customers should consider purchasing during the pre-order phase to lock in the lower version one price.
"The old pricing will stay in effect until we go live with the new product," Haynes says. "This is a great opportunity, because we aren't sure if the VPN Accelerator will ever be priced this low again."