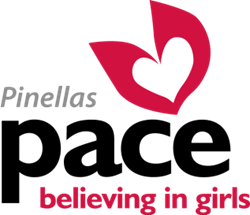 Pinellas Park, FL (PRWEB) July 22, 2014
PACE Center for Girls, Inc. is asking community members to clean out their closets and donate any unwanted, gently-used gowns, dresses and jeans.
Items donated to PACE will be re-sold at their First Annual Denim & Dresses, Second Chance Treasure Sale on Saturday, September 20, 2014. Please bring any dresses, gowns & jeans only to any Sun Country Cleaners location in Pinellas County or to the PACE Center for Girls in Pinellas at 4000 Gateway Center Blvd., Suite 400, Pinellas Park, FL 33782.
The generous donation of dresses, gowns & jeans can greatly impact the future of PACE girls and the success of the PACE Center. All clothes donated will generate funding to continue the center's work, expand their reach, advocate for changes in public policy and increase the evidence base of what works to help all girls.
Please save the date of Saturday, September 20, 2014 for the PACE Denim & Dresses Second Chance Treasure Sale. The event will be held at the Pinellas PACE Center starting at 9:00am.
Denim & Dresses is sponsored by Sun County Cleaners, Keller Williams Realty, The Beth Dillinger Foundation, Publix, and the Pinellas County Sheriff's Office.
All gowns are $20; all dresses are $10, and all jeans are $5.00.
PACE prevents girls from entering the costly juvenile justice system and reduces the significant long-term costs associated with teen pregnancy, substance abuse, dropping out of school, unemployment and long-term economic dependency. Because of this, the Annie E. Casey Foundation's 2008 Kids Count report highlighted PACE as "the most effective program in the nation for keeping adolescent girls out of the juvenile justice system and a national model for reducing recidivism and improving school success, employment, and self-sufficiency amongst girls."
Please support PACE by making a little room in your closet today! Contact Carla Mattern at 727-5-456-1566 or Carla.mattern(at)pacecenter(dot)org for information, to donate, or to volunteer.
For more information about PACE, visit http://www.pacecenter.org/pinellas.
About PACE:
PACE Center for Girls, Inc., established in 1985, is a Florida-based, not-for-profit, 501(c) 3 and the only statewide prevention program for adolescent at-risk girls in the nation. PACE's mission is to provide girls and young women an opportunity for a better future through education, counseling, training and advocacy. PACE has been nationally recognized as the most effective model in the country for reducing rates of detention and incarceration, teen pregnancy, substance abuse, dropping out of school, unemployment and long-term economic dependency amongst girls. PACE values all girls, believing each one deserves an opportunity to find her voice, achieve her potential and celebrate a life defined by responsibility, dignity, serenity and grace.