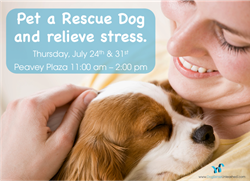 The relationship between human and dog has enormous benefits for both, as being around a well-socialized dog can bring stress levels right down.
Minneapolis, Minnesota (PRWEB) July 22, 2014
Stressed business people in downtown Minneapolis will get the chance to experience the calming influence of petting man's best friend, thanks to some tail-wagging rescue pups and local online dog training company, DogSense Unleashed.
Scientific studies have shown the positive impact of petting a dog in lowering stress levels in humans. On Thursday at Peavey Plaza in downtown Minneapolis, Jody Karow of local Minneapolis dog training company, DogSense Unleashed, and the dogs of Safe Hands Rescue will be bringing the benefits to the city's busy business people. It is part of their campaign to promote the benefits of well-socialized and well-trained dogs to our society.
Minneapolis business people will be able to say 'hi' to the dog 'therapist' crew and give them a pet to get those stress-lowering hormones pumping. Jody and her team of positive dog trainers together with Safe Hands volunteers will show just how to meet and greet the dogs so the experience is fun all around.
Jody said: "The relationship between human and dog has enormous benefits for both, as being around a well-socialized dog can bring stress levels right down. Living with a dog is a big responsibility, but it also helps put life in perspective. Dogs have no ego, no agenda. They're not competing for the next promotion or trying to outdo the neighbors. That's why having a dog around can be so positive for our mental health. Despite a lot of myths you read, dogs are really not trying to dominate their humans. Many dog owners get stressed out about having to be 'pack leader.' In fact, it's one of the few relationships in our lives that can be simple: mutual fun and shared joy. Establishing the trust and knowing how to communicate consistently with our dogs in a way they can understand takes some effort early on and plenty of practice, but it is hugely rewarding. By socializing puppies as early as possible and introducing them to our world in the right way, we can help them have a fun stress-free life, too."
DogSense Unleashed is currently running a Kickstarter campaign to bring their straightforward three-step approach to positive dog training to a wider audience via an online program, available to dog owners everywhere. Anyone making a pledge to the Kickstarter can buy their unique online dog training program at pre-launch discount or gift a training program to a dog rescue or shelter to give homeless dogs a better chance at adoption.
DogSense Unleashed, a reward-based dog training company in Minneapolis/St Paul, Minnesota offers innovative solutions for dog owners in achieving a more joyful life with their furry friend. Their mission is to spread the truth about dogs and debunk the myths for dog lovers everywhere, while making practical dog training methods easily accessible. The DogSense Online program will take accessibility in quality dog training to a whole new level.
Contact
Tel: 651-686-9059
e-mail: info(at)dogsenseunleashed(dot)com
Visit the website: http://www.dogsenseunleashed.com