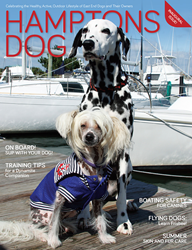 HAMPTONS DOG Magazine celebrates the "Healthy, Active, Outdoor Lifestyle of East End Dogs and their Owners"
Southampton,New York (PRWEB) July 22, 2014
Lisa Hartman's' new magazine "Hamptons Dog" celebrates the "Healthy, Active, Outdoor Lifestyle of East End Dogs and Their Owners." Beautiful, exciting photography will be a hallmark of the magazine. It will also place emphasis on interesting, local stories of real dogs and businesses, as well as fresh stories from beyond the Hamptons on incredible dogs, training, animal care, and more. Ms. Hartman has rounded up the finest talent as contributors, many of whom are colleagues and friends she has previously or presently works with. The inaugural issue features columns by Celebrity Veterinarian Dr. Cindy Bressler, as well as exceptional dog sport photography such as high flying Frisbee dogs by noted photographer Steven Donahue.
Hamptons Dog, Ms. Hartman says, is a "feel good" publication. Emphasis will be on a positive, dog friendly, companionable view of dogs as partners in our lives and as members of the family. All contributors and advertisers are hand picked and approved to meet this criteria and point of view. Dogs are the stars and cover models of this magazine, with supporting roles from humans. The canines are shown enjoying the good life and the Hampton's natural beauty and sweeping vistas.
Hamptons Dog will reach an affluent community of dog lovers all over the East End of Long Island and the Hamptons, with partial distribution in New York City and special event promotions beyond. The publication is expected to be printed seasonally.