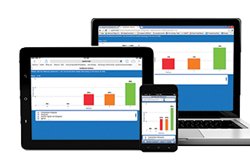 The VPOLL system is compatible with any web-enabled device, including smartphones, tablet computers, and laptops, so it can promote audience interaction from any location.
Exton, PA (PRWEB) July 28, 2014
Vistacom, the leader in keypad audience response services since 1997, today announced the release of VPOLL, a new mobile polling system that allows organizations to gauge audience participation beyond the walls of their meeting room.
The new VPOLL web-based audience response system (ARS) is ideal for conventions, conferences, hybrid events, or any other gathering where the audience is linked to a meeting or event via the Internet. VPOLL also can be used to extend the reach of any meeting to multiple locations simultaneously. The VPOLL system is compatible with any web-enabled device, including smartphones, tablet computers, and laptops, so it can promote audience interaction from any location. The new VPOLL system is ideal for use in business, training and education, association meetings, fundraising, auctions, teambuilding, town halls, or any application where remote audience participation is desired.
Unlike audience keypad polling, the new VPOLL system can support open-ended text responses, much like a Twitter feed. It also provides event organizers with more charts for better interpretation of survey results, and more reporting options to understand audience participation after the event. Custom software also is available to meet specific meeting requirements and VPOLL saves users money. There is no shipping cost for keypads or concern about lost hardware, setup is easier and takes less time, and the participation fee is less than the cost of a keypad rental.
"As mobile technology continues to make inroads with meetings the release of VPOLL allows us to stay with the technological curve and support the desire for web-enabled audience participation without the need for a traditional keypad," said Scott Casey, founder and CEO of Vistacom. "We designed VPOLL to be as feature-rich as possible so we could offer a comprehensive online audience response system right out of the gate. Adding a mobile response system to our offering once again gives Vistacom the lead in the ARS market."
VPOLL users also can take advantage of Vistacom's "best-in-class" customer service, VistaCare. A System Specialist is assigned for each meeting to coordinate with the speaker, operate the system to broadcast questions to attendees and collect responses. Once audience polls have been stopped the results are broadcast back to attendees in the form of pie charts, bar charts, rank order, etc.
For more information about VPOLL, please visit Vistacom's new website http://www.vistacomusa.com
About Vistacom
Vistacom Information Systems, Inc. has been a leader in audience response systems (ARS) for more than 15 years, delivering audience response solutions for meetings worldwide. The company's audience polling systems are designed to promote meeting participation, enhance learning, and support greater information retention. The company offers both on-site and mobile polling technology, making it easy for customers to promote audience participation from anywhere in the world. By combining its robust keypad technology with online polling technology, the company has the flexibility to support any meeting requirements, from 20 attendees on up, at any budget. And Vistacom prides itself on providing "best in class" ARS platforms and customer service through its account managers, support services, and professional system operators.
Vistacom maintains its headquarters in Exton, Pennsylvania, with regional offices in New York, Denver, and Munich. For more information, visit http://www.vistacomusa.com.