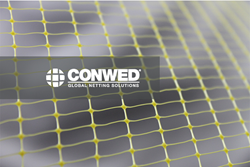 Minneapolis, MN (PRWEB) July 21, 2014
Conwed, the leading plastic netting manufacturer in the world, will be promoting its netting portfolio among industrial design professionals and engineers at the 2014 International Conference & Education Symposium in Austin, TX (August 13-16, 2014).
With its roots reaching back to 1938 and founded in 1965, the Industrial Designers Society of America (IDSA) is the world's oldest, largest, member-driven society for industrial design. IDSA represents professionals in product design, interaction design, human factors, ergonomics, design research, design management, universal design and related design fields.
Conwed is actively involved in the Industrial Designers Society of America and has extensive experience helping industrial design professionals overcome product development challenges. Conwed netting is commonly used to reinforce, support, contain, stretch, bond, and improve different kinds of materials. It can be used in composite form with nonwoven, foam, paper, film, tissue and other fabrics. "A large number of industrial and consumer product ideas come from industrial designers and engineers solving everyday problems. Our goal is to create awareness in this community about all of the performance functionalities that our plastic netting can bring to their next product innovations," said Ivan Soltero, Strategic Marketing Manager at Conwed.
Conwed offers free netting samples and an IDEA Book that can be kept in all material libraries available to industrial designers and engineers. Conwed also organizes a Lunch & Learn program, available to industrial design and engineering firms interested in expanding their knowledge about less known technologies such as plastic netting manufacturing. "Brainstorming and prototyping new product development ideas requires having materials available to test their capabilities and consider them in subsequent development phases. Making Conwed netting one of the evaluated materials when designers and engineers develop new products is our priority," said Soltero.
For a complete guide of how plastic netting is made and how it can be incorporated with other materials visit the section Plastic Netting 101 at http://www.conwedplastics.com.
About CONWED
Conwed is the leading plastic netting manufacturer in the world. Conwed manufactures extruded, oriented and knitted netting with unique customization capabilities. Headquartered in Minneapolis, Minnesota, Conwed has five manufacturing locations on two continents and a global distribution network.