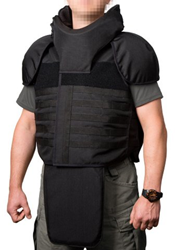 There is no question about it, professionals like them have above all the moral right to be issued with the best possible personal protective equipment… and I do genuinely believe our latest PPSS Cell Extraction Vests are the very best.
Knaresborough, North Yorkshire (PRWEB UK) 23 July 2014
PPSS Group claims to have now developed the world's toughest Cell Extraction Vest, aiming to effectively protect corrections officers tasked with responding to riots, cell extractions, mass searches or major disturbances.
Robert Kaiser, CEO of PPSS Group states: "PPSS Cell Extraction Vests are designed to offer the highest level of protection to those officers engaging with some of the most hostile, brutal and vicious human beings on this planet"
This latest high performance body armour is designed using rigid body moulded panels of a highly secretive material, tested in accordance to the stringent NIJ 0115.00 Level III (stab + spike) standard, the highest possible stab resistance level.
Please view our LIVE Video Demo: https://www.youtube.com/watch?v=7pJ6KM8b3lM
Please view our CEO's article: "Introducing The World's Toughest Cell Extraction Vest To The Global Prison Market" http://www.ppss-group.com/blog/introducing-the-world%E2%80%99s-toughest-cell-extraction-vest-to-the-corrections-and-prison-market/
"The highlight is the exceptional level of blunt force trauma, in case the officer is assaulted by a kick or punch, or by an attacker striking with any item, such as fire extinguisher, chair, table, bricks, gym weight or snooker balls etc." Robert Kaiser continues.
"PPSS Cell Extraction Vests offer the maximum level of protection around the entire upper body, extended neck area, shoulders and groin also offering the highest level of manoeuvrability".
This year's ACA Conference will see the global launch of this new ground-breaking body armour at the Salt Lake City Convention Centre (USA) on the 16th August 2014.
For further information please view http://www.ppss-group.com email info(at)ppss-group(dot)com or call the UK based HQ on +44 (0) 845 5193 953
About Us:
PPSS Group is a UK based manufacturer of certified high performance bullet resistant vests, stab resistant vests and the company behind Cut-Tex® PRO, one of the world's strongest cut resistant fabrics, now being used to manufacture cut resistant clothing for homeland security professionals.
With more than 40 years of operational frontline experience within military, law enforcement, prison service and private security and 'time served' in some of the most hostile environments, the senior management of PPSS Group has gained a very clear understanding of violence. PPSS Group is constantly in search for the most effective approaches to reduce the risk of workplace violence related injuries and even the loss of life.