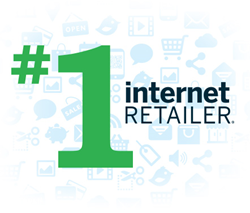 Durham, NC (PRWEB) July 22, 2014
Bronto Software, the leading marketing platform for commerce, announced today the completion of an outstanding second quarter, highlighted by a record level of new sales, a 35 percent year over year increase in revenue and the release of their new AppCenter. Capping off the quarter, Bronto was ranked the #1 email marketing provider to the Internet Retailer 1000, a ranking determined by the number of clients Bronto has among that group of leading e-retailers.
Bronto achieved a record level of new sales in Q2. Notable brands added to Bronto's client roster in Q2 included IR 1000 retailers Paul Fredrick Menstyle, CyMax and Goedeker's, European brands Vivienne Westwood, Joseph Turner and Tredz, Australia's Windsor Smith and Purebaby and Dr Martens Canada.
The company held the fifth annual Bronto Summit commerce marketing conference at the end of April. The largest ever Bronto Summit convened over 300 leading commerce executives, marketers and developers. With the theme of "The Commerce Marketing Cloud Unveiled," the Summit included keynotes by Bronto CEO Joe Colopy, e-commerce marketing guru Gary Vaynerchuck, and Jamie Clarke, Cofounder and CEO of LiveOutThere.com. The Summit closed on a high note with the unveiling of the winners of the first-ever Commerce Marketing Awards. The awards honored companies for the year's best commerce marketing campaigns and programs.
At the Bronto Summit, Bronto launched its AppCenter, a collection of well-integrated point applications from leading e-commerce, personalization and analytics providers, all of which connect to the Bronto Marketing Platform and extend its value. The company received recognition for its platform by being named a finalist for the 2014 SiiA Software CODiE Award for Best Marketing Automation Solution.
Bronto also set a hiring record in the second quarter, adding 29 new positions and bringing its full time headcount to 212. In June, Bronto named former ChannelAdvisor exec Scott Alridge as its new VP & General Counsel. Bronto will benefit from Alridge's operating experience and industry relationships as it expands globally and further into the enterprise market. Alridge will lead the legal and business operations functions and strengthen the company's leadership team.
About Bronto Software
Bronto Software provides a cloud-based marketing platform for organizations to drive revenue through their email, mobile and social campaigns. Bronto is the number one ranked email marketing provider to the Internet Retailer Top 1000, with a client roster of leading brands worldwide, including including Armani Exchange, Timex, JustFab, Samsonite and Boot Barn. The Bronto Marketing Platform is deeply integrated with commerce platforms, including Magento, Demandware, NetSuite and MarketLive. The company is headquartered in Durham, NC, with additional offices in London and Sydney. For more information, visit http://bronto.com.