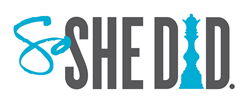 Boston, MA (PRWEB) July 22, 2014
It's here! So She Did is a not-for-profit social movement with a mission to help college-aged women better invest in themselves, from the inside out. Founder Victoria Song, and her team of 15 young professionals, believe that empowering and strengthening women is the key to improving our future world. So She Did (SSD) empowers women with self-confidence and courage to define their own measures of self-worth, a much-needed contradiction to the flat media messages and societal images shaping young women's perceptions of what makes a woman complete and praiseworthy. SSD highlights women's accomplishments and encourages professional and personal growth. The So She Did logo - the Queen Chess Piece - represents the most powerful chess piece on the board. Like her, young women today can move in any direction, command the whole game, and master their destinies. It all starts inside.
To support women on their journey, SSD publishes a digital magazine that shares nourishing and actionable advice from executive career, life, and relationship coaches, Harvard professors, and PhD clinical psychologists on how to live a full and rewarding life. SSD shares fun, healthy, and empowering perspectives on love, life, and work.
In recent years, as a response to Sheryl Sandberg's greatly popular Lean In campaign, a considerable yet narrowly defined women's empowerment movement has emerged in the corporate workplace. While SSD certainly encourages women to successfully climb the "corporate ladder", it has taken on a broader and more encompassing mission, seeking to celebrate accomplishments in all aspects of life - whether in one's career, relationships, or personal growth.
The So She Did team has diverse backgrounds in the fields of business, education, politics, technology, and journalism. The movement's principal advisor on media and entertainment, Troy Carter, has launched Lady Gaga's career and has been in entertainment for the past 25 years. The SSD advisors are spread equally across media, entertainment, politics, academia, business, technology, since they believe the message transcends industry and geography.
Join the #SoSheDid Movement with us at http://www.soshedid.org and socially on Facebook, Twitter, and Instagram—share your #SoSheDid moments!
For publicity inquiries, or more information, regarding So She Did please contact Laura Sullivan at Drive Public Relations + Consulting: 617-286-2064 or laura(at)driveprc(dot)com.