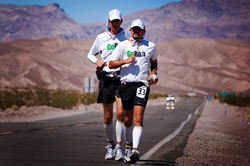 Love Zensah - have worn it for all my 20+ 100's and all 3 of my Vol State 500K finishes.
(PRWEB) July 21, 2014
Zensah®, Miami-based compression apparel brand, announces its partnership with Badwater® and sponsorship of the Badwater® 135. Notoriously known as the world's toughest footrace, athletes will take on the challenge next week. On July 21st – 23rd, 100 of the world's toughest athletes will compete at Badwater 135, running 135 miles in grueling heat and at elevations as high as 10,000 feet.
The event put on by AdventureCORPS attracts athletes including runners, triathletes, and adventure racers from 24 countries. This very demanding race is held at the hottest time of the year on challenging terrain. Zensah® is excited to be part of this incredible event and provide its supportive, durable, and recovery enhancing compression sleeves for athletes competing.
Zensah® has the #1 selling compression leg sleeves in the US and offers products ranging from compression leg sleeves, compression socks, and compression arm sleeves. Zensah®'s seamless compression apparel is made with the best technology, the most comfortable fabric, and is designed for athletes to use in the toughest races. The seamless technology used by Zensah® prevents chafing.
Made in the USA, the Zensah® Compression Leg Sleeves and arm sleeves feature pin-point compression for targeted muscle support. The pin-point compression design help athletes to relieve pain caused by shin splints, reduce swelling, and recover faster after putting impact on the body. Other key features include a moisture wicking, odor preventing fabric, and sun protection. Athletes at Badwater compete under the toughest weather conditions, and a lightweight moisture wicking fabric with sun protection is necessary.
"Love Zensah - have worn it for all my 20+ 100's and all 3 of my Vol State 500K finishes. I will definitely be wearing Zensah compression arm sleeves and compression leg sleeves when I run Badwater next week," says Joshua Holmes, Editor-In-Chief at Run It Fast and runner of over 113 marathons/ultras.
Chris Kostman, the Chief Adventure Officer and Race Director of AdventureCORPS®, owners of the Badwater® brand, says, "We are extremely pleased to partner with Zensah Compression for Badwater®. Zensah's compression products have a proven track record at Badwater races across the USA and are regarded by our athletes as the best product available to support them both during and after our grueling events."
Suzanne Kerpel, Marketing Director at Zensah®, says, "We have always admired Badwater, the athletes that compete in the Badwater 135, and all the events within the Badwater Ultra Cup! In past years, many athletes have worn Zensah® across the finish line and setting records, including Marshal Ulrich and Marco Farinazzo. Badwater does a fantastic job of challenging athletes and our overall goal at Zensah® is to help athletes conquer those challenges. With this partnership, we are helping runners cross the finish line at the world's toughest endurance challenges."
To order exclusive Badwater Compression Leg Sleeves, learn more here: http://www.zensah.com/men/men-accessories/badwater-compression-leg-sleeves.html.
About Zensah®: Zensah®, the Miami-based compression brand, leads the growth for compression apparel in the running, golf, and tennis industry. The company is recognized for utilizing seamless technology in all of its athletic apparel. All athletes praise their seamless compression products. Zensah® has the number one selling Compression Leg Sleeves in the US for Running Specialty, 5 years in a row.
About Badwater®: California-based AdventureCORPS®, Inc. is an athlete-run firm producing and promoting ultra-endurance sports events and the world's toughest brand, BADWATER®. AdventureCORPS' world-class events for athlete-adventurers include epic races such as the Badwater® 135, BADWATER® Salton Sea, BADWATER® Cape Fear, and Silver State 508™.
AdventureCORPS presents its legendary Badwater 135 on July 21-23, 2014. Now in its 37th year, the world-renowned event pits up to 100 of the world's toughest athletes against one another and the elements. In temperatures up to 120F and at altitudes as high as 10,000 feet, runners, triathletes, adventure racers, and mountaineers from 25 countries and 24 American states face off in a grueling 135-mile trek non-stop from Lone Pine, through Horseshoe Meadow, Cerro Gordo ghost town, and Darwin, before finishing high on Mt. Whitney, CA. The race is the most demanding and most revered running race on the planet.