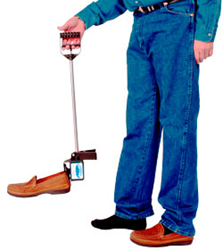 Diabetes is a huge market for us. When Marc and his son Evan contacted me about the Shoe Boot Valet and I saw their enthusiasm and expertise in the field, I embraced the collaboration and love working with them. - Trent Morris, CEO, Valet Product Line.
Tulsa, OK (PRWEB) July 22, 2014
Valet Product Line and Diabetic Care Services & Pharmacy are jointly working together to promote the Shoe Boot Valet to the diabetes community and the millions of sufferers from this disabling disease. DCSP saw the benefit for their consumer base immediately after seeing the educational video demonstrating the SBV.
Diabetic Care Services & Pharmacy, http://www.diabeticcareservices.com/, is a leading national mail order provider of diabetes testing supplies, pharmacy prescription needs and full range of health and wellness supplies. Family owned and operated since 1997, Diabetic Care Services delivers one-stop shopping, 24/7 personalized customer service and doorstep delivery of thousands of quality brand name products that help support healthy lifestyles. Marc Wolf, registered pharmacist and CEO of Diabetic Care Services, says that Shoe and Boot Valet is the type of lifestyle product from which millions of consumers will benefit. "Our patient care representatives work with an amazing array of patients who are seeking practical solutions to increase their independence and quality of life. Shoe and Boot Valet is precisely that type of product," says Wolf. Diabetic Care Services & Pharmacy can be contacted at 1-800-633-7167 or visit their website, http://www.diabeticcareservices.com/.
The Valet Product Line is located in Tulsa, OK and manufactures unique assisted living devices for the millions of elderly, mobility challenged, rehab and dozens of other maladies that restrict bending and reaching. Our flagship product, the Shoe Boot Valet, is the only device with a gripping mechanism specifically designed to effectively assist in putting on and taking off footwear. The SBV, also, has an attached patented bootjack that removes any shoe or boot with ease. The newly patented "Sock Valet" will be out later this year and has a gripping mechanism that pulls socks and/or compression hosiery over the foot, ankle and up the calf with little to no bending or reaching required.
To read more about these unique and desperately needed devices and see a demonstration video, go to http://www.shoebootvalet.com/, phone (918) 493-9464 or email trent(at)shoebootvalet(dot)com.