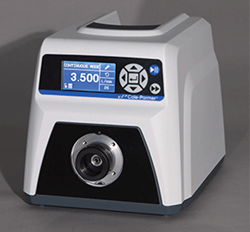 Vernon Hills, IL (PRWEB) July 21, 2014
With a larger, brighter interface, analog remote control, and simple programming, the new Cole-Parmer® Digital Gear Pump Drive for Micropump® A-Mount Pump Head is easy to operate for automated process applications.
Simply set time delay between cycles for hands-free dispensing. The batch count function counts down and displays batches completed while the cumulative volume or totalizer tracks amount dispensed across multiple cycles. View the four operating modes—continuous run, timed dispense, copy dispense, and volume dispense—on the graphical, multilanguage LCD continually for performance monitoring.
When used with the Micropump A-mount pump head, the drive delivers pulse-free flow. Its turndown ratio is 100:1, while the flow range is from 0.612 to 4212 mL/min. The metering pump drive is IP33-rated to ensure splash- and dust-resistance. Smooth contours allow for easy cleaning.
Stack up to three drives to conserve benchtop space. To view the Cole-Parmer® Digital Gear Pump Drive for Micropump A-Mount Pump Head, go to ColeParmer.com/21065 or call 800-323-4340 for more information.
Cole-Parmer has been a leading global source of laboratory and industrial fluid handling products, instrumentation, equipment, and supplies since 1955. Our product lines, including popular brand names such as Masterflex®, Oakton®, Digi-Sense™ and more, are sold through company-owned customer channel outlets and a strong network of international dealers. We also feature an ISO-17025-accredited metrology lab for instrument calibration and repair. Cole-Parmer responds with excellence to customer needs, and offers application expertise and technical support. For more information, contact Cole-Parmer, 625 East Bunker Court, Vernon Hills, IL 60061. In the US, call 800-323-4340. International customers, call 847-549-7600. Visit us at http://www.ColeParmer.com.