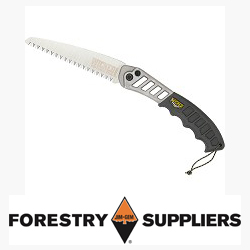 Jackson, MS (PRWEB) July 23, 2014
Forestry Suppliers, Inc. announced today several new products for outdoor professionals. Forestry Suppliers has added a variety of plastic storage containers from Plano Molding Company, a dog/canine warning device from Sound Defense, and handheld saws from Wicked Tree Gear. Primarily, these products are aimed at arborists, archaeologists, geologists, geoscientists, grounds maintenance, landscape management, wildlife management, and other outdoor professionals.
Plano Molding Company recently added Forestry Suppliers as a new distributor for select Plano storage products. Forestry Suppliers now carries a variety of Plano general storage trunks, water resistant and waterproof storage boxes, Guide Series and StowAway utility storage boxes, free-standing shelving, and a standing tool shelf. These quality storage products are manufactured in the United States and offer a storage solution for nearly every outdoor industry, including professionals in archaeology, geology, wildlife management, fisheries, landscape management, and more.
Sound Defense, LLC connected with Forestry Suppliers to distribute its new K9 Warning Device, a hand-held dog repellent device. Made with high-impact plastic, the canine repelling device emits a very loud, audible signal specifically designed for a dog's hearing range. The Sound Defense® K9 Warning Device is designed to help people keep a safe distance from aggressive dogs. Outdoor professionals as well as bicyclists, runners, joggers, walkers, and other outdoor enthusiasts may find this new product particularly useful. The Sound Defense K9 Warning Device features a pocket clip for easy access and use, and a utility holster is sold as an optional accessory.
Wicked Tree Gear recently partnered with Forestry Suppliers, adding them as a new distributor. Wicked Tree Gear saws are manufactured in the United States with Wicked Sharp impulse-hardened high carbon steel. Sharp, comfortable, and unbreakable, the Wicked Tough Handsaw is Wicked Tree Gears' flagship product. Forestry Suppliers also carries other Wicked Tree Gear products, including the Wicked Stick and the Wicked Tough Pole Saw, both featuring a curved-style arborist blade for fast, smooth cutting. Built to meet high performance standards, Wicked Tree Gear saws will suit the needs of arborists, tree farmers, serious hunters, and homeowners.
About Forestry Suppliers
Forestry Suppliers, Inc. is a worldwide supplier and distributor of general-use and specialty products and equipment for natural resource professionals. Their annual catalog and website contain a complete selection for a wide range of outdoor industries, including forestry, agriculture, arboriculture, landscaping, horticulture, grounds maintenance, surveying, engineering, remote sensing, vegetation management, construction, home inspection, utilities, wildland fire fighting, geology and mining, archaeology, anthropology, parks and recreation, golf courses, wildlife management, fisheries and aquaculture, earth science education, environmental engineering, hazmat, and remediation.
Founded in 1949 by Jim Craig, former Mississippi State Forester, Forestry Suppliers, Inc. maintains a distribution warehouse and administrative headquarters in Jackson, Mississippi. For more information about Forestry Suppliers, visit them online at http://www.forestry-suppliers.com. Technical Specialists are also available at 800-430-5566 to answer questions about product selection and usage.
About Plano Molding Company
Founded in 1932, Plano Molding Co. manufactures and sells organizational products for fishing and hunting enthusiasts as well as a variety of consumer applications. Plano is the leading fishing tackle box and tackle storage system brand worldwide. Plano is also a leading supplier of retail gun and archery cases and other fall sports products. Other products in the Plano family include Plano toolboxes, Tenzing hunting packs, Golf Guard golf club cases, Creative Options craft storage cases and Caboodles cosmetic cases. For more information about Plano, visit http://www.planomolding.com.
About Sound Defense, LLC
A certified Women's Business Enterprise, Sound Defense, LLC was founded with the purpose of protecting outdoor enthusiasts from aggressive dogs in a humane way. Sound Defense, LLC is based in The Woodlands, Texas. For more information about Sound Defense, LLC, visit http://www.sounddefense.com.
About Wicked Tree Gear
Founded in 2010, Wicked Tree Gear was created by president Todd Pringnitz with one goal in mind: to produce the toughest saws on Earth. Wicked Tree Gear's intent was to design the longest lasting, fastest cutting, and all-around toughest tree trimming equipment. This small business prides itself on manufacturing its tree trimming products in the United States. For more information on Wicked Tree Gear, visit http://www.wickedtreegear.com.