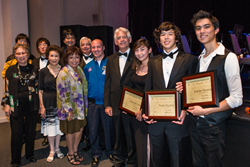 Rolling Hills Estates, CA (PRWEB) July 23, 2014
The Asia America Symphony Association will present a special benefit concert for the Asia America Symphony Association (AASA) and Youth Symphony, August 24, 2014, at the Holmby Hills, CA estate of philanthropist, Seth Landsberg, a long time supporter of AASA. David Benoit will be conducting the youth symphony, as well as perform a few selections with them.
The concert is a benefit to help raise monies for the various programs it provides for the Asia America Youth Symphony (AAYS), founded in 2001 by Music Director, David Benoit. The symphony provides opportunities for young musicians of all ethnicities and cultures, up to age 18, to play in a professional level ensemble. By performing musically demanding and diverse repertoire, students are challenged to master a wide variety of musical styles ranging from classical to jazz.
AASA offers several scholarships for students who want to pursue a career in music, as well as partake in their Meet the Masters workshops whereby well-known, professional musicians volunteer their time to mentor the young musicians.
Come and enjoy an evening of fine wines, gourmet appetizers, music, scenery, and conversation at the Symphony at Sunset, and simultaneously support our youth.
Seating is very limited.
About David Benoit:
David Benoit's career spans over three decades as a contemporary jazz pianist and composer, including over 28 solo recordings that have garnered him five Grammy nominations. Benoit's talents expand into symphonic orchestral music endeavors that include his ongoing role as Music Director & Conductor of the Asia America Symphony Orchestra and Youth Symphony, as well as the on-air radio host weekday mornings on KKJZ 88.1 FM.
About Asia America Symphony Association (AASA) – Mission Statement:
The Asia America Symphony Association is dedicated to developing and mentoring young musicians by providing educational and performing opportunities in a professional environment featuring classical and jazz concerts and integrating Eastern and Western influences.